Spicy Turkey Burgers With Avocado Cream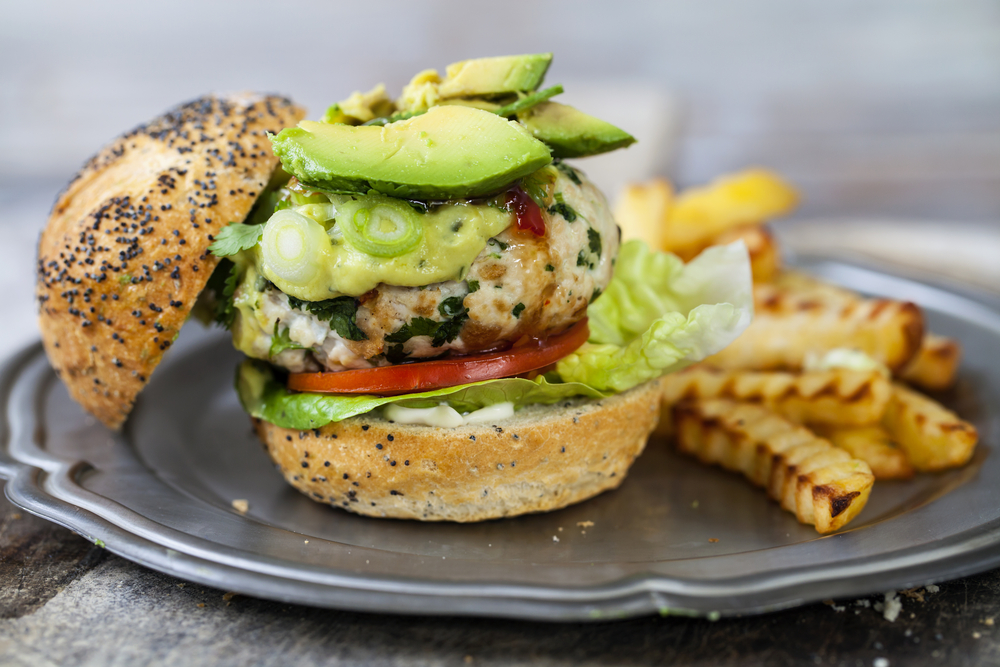 Spicy Turkey Burgers With Avocado Cream
These Mexican-inspired burgers are a low-fat alternative to the usual beef burgers. The avocado cream makes a tasty replacement for commercially made ketchup or mayonnaise.
Serves: 4
Prep time: 10 minutes plus 30 minutes of chilling
Cook time: 10 minutes
Ingredients
For the burgers:
1½ pound of minced turkey, dark meat for preference
½ cup of fresh white breadcrumbs
1 jalapeno, deseeded and finely chopped
4 tablespoon of cilantro, finely chopped
4 green onions, trimmed and finely chopped
Zest of 1 lime
Salt and pepper
2 tablespoons of light oil, such as sunflower or canola
For the avocado cream:
1 very ripe avocado
1 teaspoon of lime juice
2 heaped tablespoons of low-fat sour cream
Salt and pepper
To Serve
4 burger buns
Lettuce leaves, sliced tomatoes, etc.
Method
1. Place all ingredients for the burgers together in a large bowl, season well with salt and pepper, and mix to combine. You may have to use your hands to make sure the mixture is thoroughly combined.
2. Use damp hands to form four equally sized balls of burger mixture. Place them onto a chopping board and pat them down on top and around the edges to create four patties. Do not compress the mixture too much or the burgers will be tough when cooked. Cover and chill for at least 30 minutes to allow them to firm up.
3. Heat the oil over medium heat in a large frying pan and fry the burgers for 3-4 minutes on each side until they are well-browned and cooked through.
4. While they are cooking, mash the avocado with the lime juice. When the mixture is completely smooth. mix in the sour cream and season well.
5. When the burgers are cooked, assemble them on the buns with lettuce and tomato, if you'd like, then add a spoonful of the avocado cream on top.