Special Olympics World Games Torch Coming Through Charlotte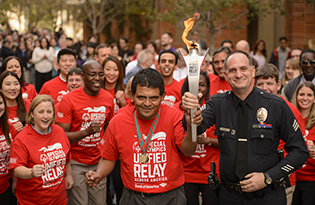 The Special Olympics World Games Flame of Hope Torch is coming through Charlotte June 4ᅠand 5 on its way to the 2015 Special Olympics World Games in Los Angeles July 25-Aug. 2. The torch was lit in Athens, Greece in May and then made its transatlantic journey to the United States. TheᅠFlame of Hopeᅠis visiting communities in all 50 states as part of the Unified Relay Across America, thanks to the Unified Relay Across Americaᅠpresented by Bank of America.
Teams of 15 were formed to run, walk, skate or bike a segment of the torches coming through Charlotte. Cheer on the torch carriers as they wind through different areas of Charlotte June 4, including a pass through the UNC Charlotte campus, and along The Plaza near Plaza Midwood and NoDa to uptown on the way to the NASCAR Hall of Fame for the Unified Relay Community Celebration. The celebration takes place from 5-6:30 p.m. The Flame of Hope arrives at the NASCAR Hall of Fame at 6:05 p.m., followed by a brief program that includes speakers Keith Fishburne, Special Olympics NC President/CEO. Alternative Rock Band Falling Through April and Charlotte singer Taylor Centers are performing at the celebration. Anyone is welcome to attend.
Starr Kluttz, a swimmer from Concord and Katie Degnan, a tennis player from Charlotte will be competing at the games in Los Angeles, and introduced at the NASCAR Hall of Fame celebration. Chuck Dellinger of Matthews and Amy Clark of Charlotte will also be coaching at the World Games. For more information about the upcoming 2015 Special Olympics World Summer Games, go to la2015.org.