SPD: Making Sense of 'Sensational' Children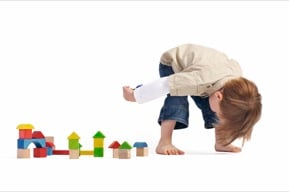 From the moment she became steady on her feet as a toddler, my daughter could twirl and twirl — endlessly spinning in one place, long past the time most of us would have staggered around the room, dizzy and nauseous.
There were other behaviors, too — pieces of a puzzle we couldn't quite fit together for a long time — like her intense need to touch anything and everything, far beyond that of most of her peers; her overly loud voice; her love of strong smells — like gasoline — and the way she'd put her nose right on the rim of a bowl to take a sniff of whatever was in it; the impulsive bear hugs and kisses she would give her friends, to the point of almost tackling them.
At the same time, she refused to wear any article of clothing with buttons or snaps. When it came to cutting her fingernails or toenails, you would have thought we were ripping them out instead of just trimming them. Brushing her hair was equally torturous, until her grandmother gave her a brush of just the right softness. She would occasionally cry in church because, she said, the somber music made her feel sad. And she was fidgety. Always fidgety.
"Has she had a physical recently?" her first-grade teacher asked me, subtly implying during a parent-teacher conference that our daughter might have Attention Deficit Hyperactivity Disorder (ADHD), which makes a child unable to stay focused, control impulses and regulate activity level.
That was something to consider, but my husband and I felt that our daughter didn't meet enough of the other criteria of ADHD: she could focus well most of the time; she had strong academic skills; she was well-liked and sociable; she could sit quietly reading, coloring or playing a game at home for long periods of time; she wasn't disruptive; and, when asked, she could quickly control certain impulsive behaviors.
It wasn't until she reached the third grade that I stumbled upon what I knew, in my heart, was the answer to why she exhibited these quirky and puzzling responses to her world.
The Body's Sensory Systems
Sensory Processing Disorder (SPD) — originally called Sensory Integration Dysfunction — was first described by the late educational psychologist and occupational therapist A. Jean Ayres as the condition wherein the brain does not effectively process information from the body's sensory systems: sight, smell, taste, hearing and touch.
"All the information in the world that we get, no matter what age we are, comes into our brain through one of our senses," says Lucy Jane Miller, an occupational therapist (OT) and a leading research scientist who continues the work of Dr. Ayres through the SPD Foundation and STAR — the Sensory Therapies and Research Center. "If you have a sensory processing disorder, you are misinterpreting that sensory information. And, because of that, you're making an atypical response."
Like compulsively fussing over the seams in your socks because they feel too thick, or covering your ears in sheer panic at the rising noise level in the school auditorium, or constantly crashing and banging into objects or people, or crying in church because the music makes you feel unbearably sad. Miller calls these children "sensational" kids.
"Parents of sensational kids often say it seems like their children have no control over their bodies," writes Miller, in "Sensational Kids: Hope and Help for Children with Sensory Processing Disorder (SPD)" (G.P. Putnam's Sons, 2006). "Well … guess what? They don't."
The Hidden Senses
The main theory behind SPD is that certain children over-respond or under-respond to the input they are getting from their senses, including what Miller calls the "hidden senses" — the so-called proprioceptive and vestibular systems. These bodily systems guide, among other things, the way we move — specifically, our understanding of how our body works and where it is in relation to other people and things — and how we perceive pressure on our joints and muscles.
For example, a sensory over-responsive child might hate feeling the neckline tag in his shirt, or fret over crumbs on his face or mud on his hands. A sensory under-responsive child might appear lethargic and unwilling or unable to engage in her environment, much preferring to watch television than to play. A sensory seeker craves more and more stimulation, often burping and passing gas, chewing on collars or spinning in place or on a swing in order to get that extra sensory input. Some children might demonstrate a combination of sensory dysfunctions — vigorously seeking movement while vehemently rejecting certain smells, tastes or touches.
Most of us have experienced textures we don't like, smells that are too strong or sounds that scare us. That's normal. The problem arises when a person repeatedly over- or under-reacts to certain sensory stimuli. "Educating parents … and teachers too, is important in helping to understand the sensory seeking or sensory avoidance behaviors the child is demonstrating. These behaviors might be annoying or unusual, and there are reasons why the child is doing them. Sometimes the child is overwhelmed by sensory input and sometimes they are attempting, often in unusual or unacceptable ways, to self-regulate, calm down and get organized to be able to meet the demands being placed on them at that point in time," notes Beth Watson, occupational therapist at Achieve Therapy Services, a private pediatric clinic in Matthews.
Overcoming Skepticism
Because sensory processing problems often occur in combination with other recognized developmental disorders — such as learning disabilities and autism — there is skepticism within the traditional medical community that SPD exists as a distinct disorder on its own. In fact, SPD is not yet listed in the official Diagnostic and Statistical Manual (DSM), or any other diagnostic classification system, which means that many health insurance policies don't cover treatment for it, and many family doctors don't know much about it.
But Lucy Jane Miller hopes to change that. In January 2007, she and other researchers and therapists began the lengthy application process to have Sensory Processing Disorder included in the DSM; approval would come from the American Psychiatric Association (APA) and the World Health Organization (WHO).
"Most disorders grow up within the discipline of medicine," says Miller. "This has grown up within the discipline of OT (occupational therapy), and that makes people, I believe, a little bit more skeptical." Some would say this skepticism is well-founded. After all, there are many who barely know what occupational therapy is, much less understand how it can be used to help a desperate child whose sensory system is out of whack.
Miller explains: "Occupational therapy's goal is to get an individual completely engaged and participating in a natural occupation. What are my occupations? I'm a wife, a researcher, a therapist. What are a child's occupations? To play, sleep, eat, have friends, succeed at school. What an occupational therapist does is whatever needs to be done to help that child have a successful life in those areas."
Sylvia Ceesay, occupational therapist with Carolinas Rehabilitation Services in Charlotte works with pediatric patients. She says, "When I see a child being treated with SPD and they seek out deep pressure or are calmed by brushing as a part of a sensory diet, it gives me direct, clear evidence that the treatment approach is working. There are social/emotional changes, behavioral changes and physical changes that have been clearly demonstrated as a result of using a sensory diet program. Examples of some of those changes include improved focus on task, increased willingness to try a task or piece of clothing that may make them uncomfortable ordinarily."
A Sensory Diet
The sensory-based approaches offered during a typical OT session bear no resemblance to any treatment offered by traditional medicine. There are swings and mats and huge bouncing balls; climbing structures, tricycles and scooters; and games, lots of games, aimed at strengthening fine- and/or gross-motor skills. And there is no medication. The aim of all this is to regulate the child's so-called "sensory diet," so that he gets what his body might need.
Sensory Processing Disorder has too many aspects to enumerate here. But if you think your child's sensory system is off-kilter, there are plenty of books and Web sites on the subject to help you recognize the symptoms, with helpful strategies that can be used at home and in the classroom. Lucy Jane Miller suggests you contact your family physician or pediatrician first with your concerns, describing — rather than trying to diagnose — your child's behaviors. Don't be discouraged if your doctor is unfamiliar with SPD. Instead, bring along a couple of reputable articles or books to explain.
These are the steps I took with my daughter. Our pediatrician was not knowledgeable about Sensory Processing Disorder, but she was open-minded. She referred us to a local children's hospital that conducted a three-hour evaluation before signing my daughter up for once-a-week, hour-long OT sessions.
Because my daughter's sensory-seeking behaviors (in combination with a few sensory-avoiding behaviors) were mild enough to evade the public radar — her school report cards were fine and she wasn't a discipline problem — she almost slipped through the cracks. Now, after about six months of occupational therapy, she knows (and so do I) what she needs to do to control certain off-putting behaviors. She is wiser. She is calmer. And she rarely ever needs to spin.
SPD Resources
Organizations
SPD Foundation
spdnetwork.org
303-794-1182
American Occupational Therapy Association, Inc.
aota.org
800-729-2682
Sensory Processing Disorder Resource Center
www.sensory-processing-disorder.com
Reading materials
"Sensational Kids: Hope and Help for Children with Sensory Processing Disorder (SPD)," by Lucy Jane Miller (G.P. Putnam's Sons, 2006)
"The Out-of-Sync Child: Recognizing and Coping with Sensory Processing Disorder," by Carol Stock Kranowitz (Perigee, 2005)
"The Out-of-Sync Child Has Fun: Activities for Kids with Sensory Integration Dysfunction," by Carol Stock Kranowitz (Perigee, 2003)
S.I. Focus magazine
www.sifocus.com
214-341-9999
Local agencies that work with SPD
Achieve Therapy Services
10800 Independence Pointe Parkway, Suite D
Matthews, NC 28105
704-708-8314
www.achievetherapyclinic.com
Occupational therapists work with children using sensory integrative intervention and parent education
Carolinas Rehabilitation-Outpatient Therapy
3 locations – Charlotte, Huntersville, University
Occupational therapists specializing in evaluation and treatment work with pediatric patients
Web site: www.carolinasrehabilitation.org
Center For Neurological Health In Learning
Dr. Joseph Horacek
10716 Carmel Commons Blvd., CLT 28226
704-542-9590
Evaluate children – refer to occupational therapist if necessary
Charlotte Speech & Hearing Center
210 East Woodlawn Road, Suite 150, CLT 28217
704-523-8027
Evaluations and therapy
Kidshrink
Dr. Sharyn Comeau
offices in Davidson and Cornelius
704-892-1009
Evaluate children – refer to occupational therapist if necessary
Siber Imaging
Dr. Myra Preston
7820 Ballantyne Commons Parkway, Suite 106, CLT 28277
www.siberimaging.com
704-543-0427
Work with patients through neurofeedback therapy or referrals
Crossway Pediatric Occupational & Speech Therapy
9111 Monroe Road, Suite 195, CLT 28270
704-607-0014; www.crosswayot.com
Occupational therapists work with SPD children
Kidsabilities – OT for Children
7735 Beaker Ct., CLT 28269
704-503-1117
Kidsabilities – OT for Children – Davidson
452 South Main St., Suite 105, Davidson, NC 28036
704-987-5128
Occupational therapists work with SPD children.
Mary Ann McGann is a freelance writer and mother of two.