Slow Cooker Marmalade Pork Tenderloin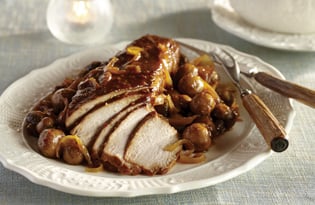 The winning recipe of last year's Spreading Smucker's Traditions Recipe and Essay Contest incorporates the sweet and tangy flavors of Smucker's Orange Marmalade with teriyaki and fresh ginger.
Product Used: Orange Marmalade
Servings: 8
Cooking Time: 4 hrs
Prep Time: 20 min
Ingredients
2 tablespoons Crisco®
Pure Olive Oil
3 pounds pork tenderloin
1/2 cup teriyaki sauce
1 cup chicken broth
1 jar Smucker's® Orange Marmalade
2 teaspoons fresh ginger, grated
1/4 cup brown sugar
3 cloves garlic
1 large onion, sliced
1 package fresh mushroom caps
1/4 teaspoon black pepper
1/2 teaspoon salt
1 teaspoon red pepper flakes
?Preparation
1. HEAT the olive oil in a large skillet over medium-high heat. Add pork tenderloins and brown on all sides.
2. COMBINE teriyaki sauce, chicken broth, orange marmalade, ginger, brown sugar and garlic in a blender. Blend until smooth.
3. PLACE browned tenderloins into slow cooker. Add onions, mushrooms, black pepper, salt and red pepper flakes. Cover with teriyaki mixture. Cook on HIGH 4 hours.
4. TURN the tenderloins a couple of times while cooking. When done, remove the tenderloins and let rest 10 minutes.
5. SLICE diagonally to serve and spoon vegetables and sauce over the top.
Story
"This recipe is an Easter holiday staple in my family. My grandmother and mom passed it down to us. My mom had 5 kids and Easter morning was always hectic. Getting 5 children dressed in their new outfits was no small task. Slow cookers saved the day. My mom would put this together and it would cook while we were at church. The smell of sweet, tangy pork always evokes wonderful memories of Easter hats, egg hunts and family meals." -Tamie J., Prosper, TX?
Visit Smuckers.com for the chance to win a $20,000 family reunion in the fourth annual Spreading Smucker's Traditions Recipe and Essay Contest. Share your favorite family recipe made with Smucker's jams, jellies, preserves or fruit butters and a short essay about how the dish makes your family celebrations special.