Sicilian Baked Salmon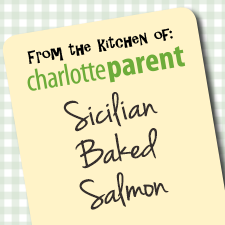 Being prepared/planning ahead, hiring a personal chef for a few nights a week on your busiest days, and personal chef-ing yourself are three steps to ensure that your family is having a healthy sit-down dinner every night of the week no matter how busy it gets.
Serves 4
Ingredients
Four 6oz pieces of salmon
1 tablespoon extra virgin olive oil
1 medium onion, chopped
2 garlic cloves, minced
½ cup dry white wine
2 medium tomatoes, diced
12 pitted black olives, sliced
1 tablespoon oregano
salt and pepper
Directions: Heat a wide saucepan over medium-high heat. Add the oil and the onion and cook, stirring often until tender. Add the garlic and stir until fragrant, about another minute. Add the white wine and simmer for a further 3-5 minutes until the liquid has reduced by half. Add the tomatoes and simmer for another 5 minutes, until the tomatoes soften. Add the olives and oregano, salt and pepper to taste. Let cool.
Place the salmon in a baking dish and spoon the sauce over salmon.
Now you've personal chef-ed yourself! Cover with foil and store in refrigerator for up to 8 hours.
Preheat the oven to 375 degrees and bake salmon for 25-30 minutes.