Should You Encourage Your Child to Act?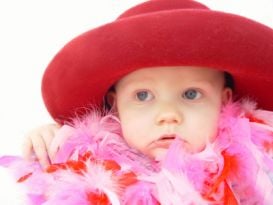 So your daughter went to see "Charlotte's Web" and decided she wants to be the next Dakota Fanning, or you've always thought your son is a natural performer and have wondered if enrolling him in an acting class would be a good idea. Where do you start? The world of acting tends to be more mysterious and difficult to navigate than signing up a child for a season of soccer. If you've ever wondered if your youngster has star potential, these tips will help you figure out where to begin.
Make Sure Your Child Is Interested in Acting
You may think that your child's personality is perfect for performing on stage, but if she doesn't get excited about the idea, it's better not to push her toward it.
Take your cues from your youngster. Childhood is a time for kids to try different interests and change their minds many times about their likes and dislikes. So, even if your budding actress displays a love for the stage, don't be surprised if she decides after a few years that joining the swim team sounds like more fun.
Andrea Nasfell is a wise mother who understands this tip. As a screenplay writer living in the acting capital of Los Angeles, it was a natural choice for her to get her daughter Emma (now 5 years old) involved in performing. "It was clear at the start that I had a very social child, and I thought that the auditions would be something for us to do together that would get her used to meeting new people and adjusting to new situations … something I was horrible at as a very shy child."
Since she was 7 months old, Emma has found success in acting through print modeling and onscreen in a national commercial and a couple of films. Despite her daughter's success, Andrea is taking a wait-and-see approach to Emma's future as an actress.
"While (Emma) has fun doing shoots on occasion, I don't think she has the desire to be a child star, acting all the time. And it's important to me that I don't push her to do something just because I want it or because it helps us save money for her future. For now we're taking it case by case and we'll see how far she decides to go."
Expose Your Child to the Local Acting Community
There are many options available to children in the Charlotte area to get involved in the performing arts. One of the best places to start is to attend local performances. Kid-friendly productions can be found at The Children's Theatre of Charlotte, Matthews Playhouse and Central Piedmont Community College, just to name a few. Even local schools like Northwest School of the Arts and Charlotte Christian have theater productions that are open to the public and provide an opportunity for kids to see their peers on stage.
Whether your child's interest in acting blossoms or wilts through watching other performers on stage, it will be a great opportunity for your family to enjoy the arts together.
Start Small and Go from There
After your aspiring actor has watched others on stage, it would be a good idea to get his feet wet by taking an acting class or attending a summer camp. The Children's Theatre offers classes and camps at several locations. Summer camps with an acting focus are also available through UNC and at some YMCA branches.
Many churches also offer opportunities for children to perform onstage through children's choirs, musicals and theater productions. Often times, it is through these beginning explorations into acting that children find other doors opening up for them. Such was the case for Myers Park High School student Robert Blanton, who had been singing in his church's choir when he was approached to audition for a role in Central Piedmont Community College's "The Sound of Music." The choir teacher at his church also happened to be the choreographer for the musical. When she learned that no suitable actor had been found for the part of Friedrich, she approached Blanton, knowing he was a capable singer. He won the role and went on to perform for CPCC again in "The Wizard of Oz."
Understand the Challenges
Whether your child wants to act in local theater or professionally on a national level, it is important to evaluate the sacrifices and obstacles that your child, as well as your whole family, will face along the way.
Helping your child learn to face the disappointments of not being chosen for each role she auditions for can be difficult. Charlotte mom Jocinda Benjamin has passed on a healthy perspective to her seventh-grade daughter Jaida about dealing with this type of disappointment. Jocinda says, "We learned very quickly that Jaida will not get every role she auditions for. Many times casting directors have an idea of what they are looking for and it really may not have anything to do with you. It's all about timing." They have learned this from personal experience.
The first year Jaida tried out for the national tour of "Annie, "she was passed over. But this year, when she went back for a second time, she was awarded a spot on the tour.
For parents, there is also the time and financial commitment that must be made if your child is serious about acting. A considerable amount of time must be spent shuttling your child from auditions to practices, not to mention acting or voice lessons she may need along the way. And the costs of headshots, resumes, costumes and lessons do add up. While these costs may deter some, Jocinda Benjamin looks at it like this, "Parents need to consider that everything has a cost and they should treat their child like an investment."
Enjoy the Highlights
However far your child decides to delve into acting, there are sure to be many benefits. Padgett Vaughn, a 17-year-old who performed alongside Robert Blanton in "The Sound of Music," was able to apply what she learned in school about Nazi Germany to her role as the eldest daughter in the musical.
Padgett's mother has also watched her daughter learn to accept a wide range of people from her time spent with cast members on several productions. Because casts are comprised of people of various ages, life experiences and interests, it allows young actors to grow in their appreciation for the characteristics that make people unique.
Besides these advantages, acting provides many of the same benefits that team sports do. It helps children build confidence, learn to take direction and receive constructive criticism and develop team-building skills.
If your child goes on to act on a professional level, you might even get to enjoy traveling like the Benjamin family has with Jaida in the "Annie" tour or the Nasfells have with Emma being chosen for a shoot in Hawaii. Andrea Nasfell says, "We got to go to Hawaii for five days to do a print shoot for the Four Seasons. Emma had a blast doing all the swimming and exploring while they set up for the pictures, and it was a great adventure for us to travel and experience Hawaii together."
While a trip to Hawaii may not be on every young star's horizon, the benefits of acting are many. By equipping yourself with information about the possibilities that are available to your child, you will be able to help him get the most out of his desire to perform.
5 Audition Tips
1. Be on time. Plan on arriving 30 minutes early in case you run into traffic or get lost.
2. Be prepared. Bring your child's headshot and resume along with relevant personal information. If your child has an agent, you will also need to supply that contact information. Have your child dress comfortably, but neatly. You do not want a showy outfit to detract from your child's performance. Know whether or not the casting director wants your child to come with something prepared to read or sing.
3. Follow Directions. Stress to your child that the casting agent will be looking for children who can follow instructions. This is one of the most important characteristics that people look for when they are casting young actors.
4. Be Polite. Encourage your child to be as well mannered as he would be with any adult for the entire audition, not just while he is on stage.
5. Be patient. There are often delays and large numbers of people waiting to audition at casting calls. It's a good idea to take a small bag of items your child can work on quietly while she waits.
Angel Rutledge is a Charlotte mother and freelance writer.