Shared Bedrooms: Minimize Squabbles, Maximize Fun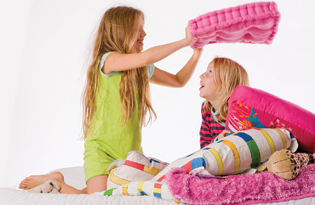 According to a recent survey by Better Homes & Gardens magazine, families are prioritizing affordability and energy efficiency over square footage. That means more children will experience the ups and downs of sharing a room with a sibling.
Bunking up has a bevy of benefits: efficient use of space, a single bedtime routine for multiple children and an irreplaceable sibling bond, to name a few. Kids who share rooms have a leg up when it comes to all-important skills such as negotiation and compromise. But shared bedrooms can also breed sibling squabbles faster than you can say "room divider."
"Whenever two or more people share space, conflict is inevitable," says Laura Brightwood, a family therapist in Chapel Hill. But that doesn't mean families should shy away from shared bedrooms – conflict is actually a good thing, she says. "Conflict between siblings is a learning tool for all kinds of learning in life."
Whether your bunkmates are toddlers or teenagers, here's how to keep the peace in a shared bedroom.
> Ages 0-5: Creative Discipline
> Ages 6-11: Privacy Prizefights
> Ages 12-18: Sleepover Scraps