Set Boundaries for a Healthy Teen Relationship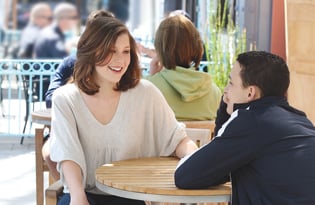 There are many good reasons young adults should be encouraged to date. It provides them with the opportunity to create and maintain an intimate connection with a peer. They'll develop empathy for others, learn conflict negotiation skills and develop appropriate social skills, too, like cooperation.

Talking With Your Teen
Research consistently shows that the parent-child relationship serves as a working model for other relationships children have with their friends and romantic partners. Make sure you continue to work to have a consistently supportive, empathetic, loving relationship. This will lay the groundwork for having an open, comfortable forum for your teen to approach you with questions about his or her own romantic experiences. Practice conflict negotiation skills (when appropriate) and demonstrate active listening to your child to illustrate empathy.
Ask about your teenager's friends and romantic interests. Listen and remember names that are common in your child's conversations. Attempt open-ended questions about these peers in the spirit of wanting to learn more about your teen's interests, but respect his or her privacy if your child offers very little in return. Consider sharing your relationship history and point out what your "red flags" are when it comes to romantic relationships. Remember that dating can be FUN and POSITIVE, and provide examples to your teen of how that is true.
And be sure to clearly define the rules and consequences of dating. Discuss with your teen what is age-appropriate … and, if you don't know, ask a trusted friend or professional
Preparing for the Storms
There can be a darker side to teenage romantic love. As quickly and intensely as the positive feelings come when the relationship begins, it can just as quickly become intensely stormy and volatile. This often results in an impulsive and often unexpected break-up, which, for many teenagers, is one of the most devastating emotional experiences of their teenage years.
Parents, do NOT say to your teen, "Don't worry, there are other fish in the sea." For many of these teenagers, this love is experienced as deeply and intensely as your love for your spouse. Be as sympathetic as you can and listen.
When you see your child becoming more than just friends with someone, you might want to talk about how it's so easy to "lose yourself" in a romantic relationship.
The Signs of Being Lost in Love
1. Making yourself too available for when he wants to spend time with you, more convenient to his schedule (not necessarily to yours).
2. Hearing friends comment that they haven't seen you in a while, or heard from you, or they miss you.
3. Changing your routine/interests to accommodate hers.
4. Staying quiet and not speaking up if it might potentially cause a challenge or conflict, even though you're not really comfortable with what is going on.
5. Beginning to take on more characteristics/activities that are foreign to you.
6. View him and his actions with rose-colored glasses while tuning out other's opinions, which actually may be unbiased and more accurate.
7. Pretending to like something you don't.
To avoid being lost in love, a teen needs to balance his or her time with the romantic partner, friends and the family. Encourage your teen to continue pursuing separate, personal interests; not going out for the soccer team won't seem like it was such a good idea when the relationship has ended in September.
Be sure to monitor and help your teen balance his or her communication time. A teen should not be on the phone several hours of the night, at the expense of schoolwork and sleep.
Finally, demonstrate to your teen how to have a healthy balance between personal relationships and time for self. Use your own relationship as a model.
Melinda Harper, Ph.D., teaches psychology at Queens University of Charlotte. Her private practice at Charlotte Psychotherapy & Consultation Group focuses on children and adolescents.