Service Learning: Combining Curriculum with Community
Service learning enhances student growth and achievement, teaches civic responsibility and strengthens the community.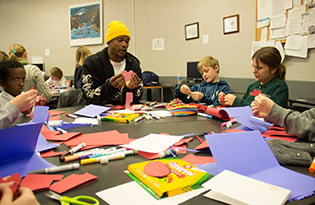 SPONSORED CONTENT
---
Community engagement is an important component of educational landscapes across the country. Those that focus on the "Service Learning" strategy of teaching and learning combine curricular goals with service in ways that enhance student growth and academic achievement, teach civic responsibility and strengthen the community for the common good. Research suggests that student participation in Service Learning produces positive outcomes in the following areas:
Personal Development
Service Learning has a positive effect on a student's personal identity, spiritual growth and moral development.
Service Learning provides students the opportunity to experience the ultimate 21st century skill of cultural dexterity – learning to live and work alongside others from diverse backgrounds with empathy and appreciation – while explicitly connecting back to the curriculum.
Students who participate in an academic community that fosters openness, honor and grace in all areas of the school demonstrate a higher self-esteem, as well as a greater interest in and respect for diversity.
For example, at Trinity Episcopal School in Charlotte, the School's mission is to develop a community of scholars who practice respect, honor, kindness and integrity, while embracing rigorous academics and nurturing spiritual development.
Academic Development
Service Learning develops positive attitudes toward school and enhances academic achievement by developing the necessary skills for community engagement.
Service Learning provides experiential opportunities for students to learn in real world contexts and develop the skills needed for community engagement such as effective communication, reflection, critical-thinking and problem-solving.
Each grade at Trinity Episcopal School is partnered with an organization to address real community needs such as third grade with the Urban Ministry Center, kindergarten with Friendship Trays and eighth grade with Charlotte Bilingual Preschool. These year-long partnerships connect the organization's mission and services to the grade-level curriculum – transforming charity into meaningful relationships and aligning the lessons learned in the classroom with service.
Community Development
Service Learning teaches civic responsibility in students and strengthens the community for the common good.
By incorporating service with curriculum, involving community partners, providing opportunities for reflection and incorporating student voice, Service Learning connects the mind, heart and hands of children. This whole child approach instills an enduring appreciation for and commitment to diversity by opening children's eyes to the broader world, developing service as a habit of the heart and intentionally challenging students to step out of their comfort zones.
For example, Trinity Episcopal School's fourth graders work every other week with the physically and cognitively disabled students that attend Metro School of CMS.
The partnership between the students at Metro School and Trinity highlights the human connection. Trinity students begin studying the human body and nervous system in fourth-grade Science. They learn about anatomy and what is seen in their bodies as compared to the differences they see with their friends at Metro School. The relationships developed over the year provide connections between Science, service and friendship that no book could ever teach. Students come back to campus with a more open, inclusive understanding and a personal responsibility to advocate for those with differences in their communities at school and throughout Charlotte.
By providing the transformative link between "serving" and "learning", students are experiencing increased self-confidence and engagement in school and are becoming socially-conscious, civically-engaged ambassadors of grace, honor and respect in the world.
---
Founded in 2000, Trinity Episcopal School is the only K-8 independent school in Uptown Charlotte. Trinity redefines academic rigor by creating scholars, nurturing spirituality, embracing diversity and instilling honor through responsibility, respect and integrity.