Secrets of Charlotte-Douglas Airport
What families need to know to make flying from CLT a breeze.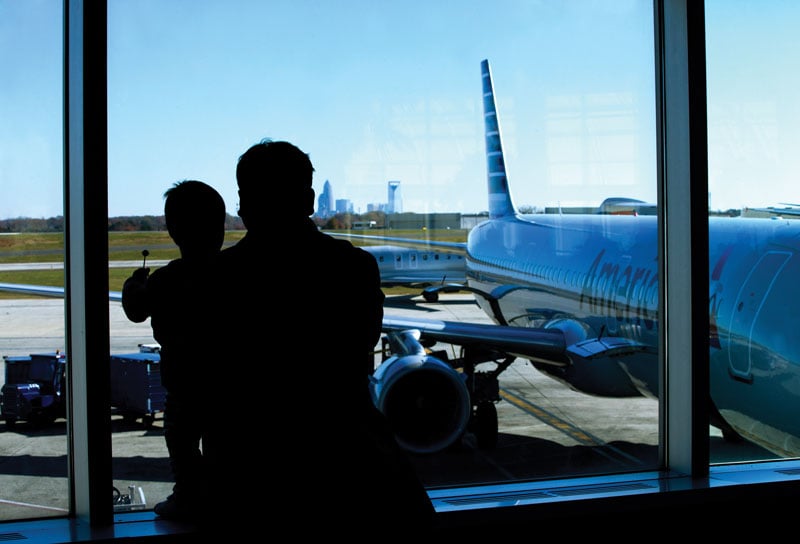 Flying with children is always an adventure. From unpredictable delays and urgent diaper changes to hyper kids and choruses of "I'm hungry," there's a lot to keep parents on their toes. Use these insider tips to transform your time at the Charlotte-Douglas International Airport (CLT) into an enjoyable experience for your whole family.
---
Never Let Them Get Hungry
Go Gourmet: 1897 Market is a step above typical airport cuisine. It offers plenty of gourmet options, including the open pizza kitchen where kids can watch chefs in action.
"If you're coming in and you've got your stroller and diaper bag and 2.2 kids, it's a little bit more spacious," says Haley Gentry, the airport's assistant aviation director of business and revenue. In a hurry? Grab a ready-made meal or healthy single-portion snack (prices start around $1.50) like fresh fruit, string cheese or yogurt cups to take on the flight. Location: Atrium.
For sophisticated palates: Hissho Sushi is perfect for more adventurous eaters and features great views of the First in Flight mobile. Location: Atrium.
For Fun: Stock Car Café is all about NASCAR. From the racing themed menu items to the full-sized cars hanging from the ceiling, it's sure to capture kids' attention. Location: Concourse B.
Crowd Pleaser: What's not to like about a good burger? And if you're short on time, try the take out window for faster to-go service. Location: Concourse C.
GOOD TO KNOW: There is a Starbucks in the ticketing area, the atrium and all concourses except Concourse A.
---
Keep Busy Before Boarding
Rock Out: Settle into one of the 100 iconic white wooden rocking chairs for some people watching, reading or relaxing. With luck, you can also catch an impromptu concert on the grand piano in the atrium, and most volunteer pianists take requests. Locations: Atrium and throughout the terminal.
Seek Out Public Art: Art installations throughout the airport capture young travelers' imaginations. Highlights include a replica of the Wright Brothers' Flyer in Concourse E and a 1939 Bellanca Model 14-9L airplane Concourse D.
Don't miss the massive First in Flight kinetic sculpture floating above the Atrium. The 700-pound creation features moving replicas of more than a dozen real and imagined flying machines from the past and today. Locations: Atrium, Concourses D and E.
Watch Planes: Between gates D12 and D13 is a plane-spotting paradise with large glass windows and extra space for kids to run around. Location: Concourse D.
Charge up: There are charging stations in each concourse as well as in most restaurants to recharge tech devices. Wi-fi also is free. Locations: Throughout all terminals.
GOOD TO KNOW: The airport has a volunteer corps of 14 registered therapy dogs who move throughout the terminal from 10 a.m.-4 p.m. each day. Look for dogs sporting little jackets that say "pet me."
---
Personal Care and Potty Breaks
Nursing moms can nurse or pump in privacy in the Mother's Room. Two separate nursing stalls are available, each outfitted with cushioned rockers and power outlets. Featuring a kid-friendly safari animal décor, the Mother's Room also has a diaper changing station, a sink and a comfy bench for any other tots accompanying you. Location: Above Cinnabon in the Atrium.
If you find yourself short on diapers, most airport newsstands can help you out. Larger shops also carry some children's medications like Motrin. Demand for infant formula is lower so it's not as widely available. Location: Charlotte's Landing in Concourse A, and Queen City Gifts and News in the Atrium.
GOOD TO KNOW: Private family restrooms are located near gates A6, B4, C7, D5, E5, E15 and arrivals/baggage area zones B and E.
Bon voyage! Remember, half the fun is getting there.
Liz Rothaus Bertrand loves traveling near and far with her family and writing about their adventures. You can read more from her at ideasmelimelo.wordpress.com.
---
Getting Through Security
Always allow plenty of time when traveling with kids – two hours for domestic flights and three hours for international travel. There are four regular passenger security checkpoints at CLT, all leading to the Atrium and providing easy access to any concourse. Look for the shortest line, and remember kids under age 12 do not have to remove their shoes.
Visit the TSA website before you travel to familiarize yourself with topics like carry-on restrictions, tips for pregnant travelers and screening for infant-care items. Strollers and infant carriers must be folded and placed on the belt. Keep in mind, the less you have to carry, the easier it is moving around the around the airport.
Communicate with the TSA member directing passengers. "Most of the time TSA will put families in [a] special line," Gentry says.