Screens and Sleepovers: Do They Mix?
The latest "Families Managing Media" column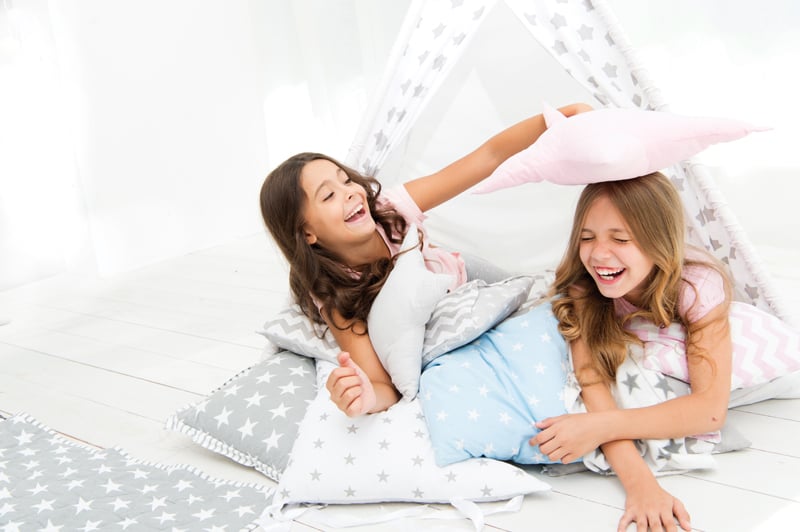 J
ust when you think you are getting a handle on screen limits in your home, the holidays roll around and throw a wrench in your best-laid plans. Your children are requesting sleepovers throughout winter break, and you quickly discover it is nearly impossible to uphold family screen rules when your child is in the home of a friend or extended family member. Here are three things to consider before your kids pack that sleepover bag.
Peer pressure. Peer pressure at a sleepover is a powerful motivator. A child's developing brain is programed to seek novelty and risks. These tendencies are heightened with social conformity that comes when in the company of peers. A child's ability to resist temptation is also compromised at night when he or she is tired. Strength in numbers causes poor decisions that an otherwise low-key kid would never be tempted to engage in alone. Additionally, there is the potential for negative influence from older children at the host home.
Viewing adult content. When kids find novel images, the first impulse is to share their discovery with friends far and wide. It is common for first time viewing of graphic content to be during a sleepover. Once they see it, it's stored forever in their brain. Most adult content is viewed on small hand-held devices as opposed to larger TVs. This puts a lot of pressure on the hosts as they are responsible for what happens on their watch. Not to mention, due to smartphone unlimited data plans, parental controls on the hosts internet are null and void when the kids use data instead of Wi-Fi. Sleepovers are a perfect time for the kids to do this.
The lost social benefits. With the presence of smartphones and video games, the social benefits of getting together in person are very limited. When everyone has a screen at a gathering, very few, if any, children are practicing face-to-face social interaction because everyone is staring down at their phone and sending videos back-and-forth. As parents we should be constantly looking for more ways for our kids to practice healthy face-to-face interaction, not more ways to sabotage those efforts.
Solution: Host a half-over. Is it possible to enjoy the benefits of a sleepover withour the hassle of digital devices? Yes. A half-over is when a child attends the party and is picked up at 9:30 or 10 p.m. He gets the benefits of social time without all the dangers of the unmonitored, late-night screen exposure, making it a win-win.
Simply explain to the host parents that your child would love to come, but that you have found that she does much better with a late pick up once the activities are winding down. Most parents are relieved with this structure and are happy to participate. Once a core group of families start this practice, half-overs may become the norm. Chart a different course and do not make your holiday season more stressful than it needs to be.
Melanie Hempe is the founder of Families Managing Media, a registered nurse, and mom to four children. Find more about managing family screen time at familiesmanagingmedia.com.