Safer Schools in North Carolina: What Parents Need to Know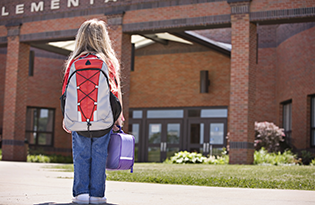 Recent events, such as the Midwestern tornadoes and the Sandy Hook Elementary school shootings, have spurred the nation's school districts to examine school security procedures, and North Carolina's schools are no exception to that trend.
Several of the state's school districts have created committees to review school safety measures, and the state of North Carolina also has a newly formed North Carolina Center for Safer Schools under the North Carolina Department of Public Safety.
Following months of gathering data across the state, representatives from NCCSS recently made recommendations to Governor Pat McCrory on key areas of concern to N.C. citizens.
"Governor McCrory set up the center in March of this year partly as a response to Sandy Hook in December and because there have been a lot of concerns brought to him about school safety in NC," says Kym Martin, executive director of the North Carolina Center for Safer Schools.
Martin says center members identified the following as recurring themes:
• Physical security at schools
• Mental health agencies and the need for collaboration with schools
• Roles of school resource officers
• Programs to involve parents, including dads and male caregivers
• Trusted adult mentors for students
• Creative ways to handle school suspension
• Bullying and cyberbullying
Nearly 1.5 million students attended North Carolina Public schools in 2012-13, and one of the common complaints among students and parents is bullying. In 2009, about 28 percent of students ages 12-18 reported being bullied in school (6 percent reported cyberbullying), according to the U.S. Department of Education National Center for Education Statistics.
"Students (across the state) talked about knowing someone who had been bullied or being bullied themselves, and some felt they had people they could turn to while others did not," says Martin.

Existing Measures

Current safety measures at N.C. public schools include drills, such as lockdown procedures and fire drills, as well as the use of surveillance cameras and various types of visitor check-in systems. Middle and high schools, and some elementary schools, also have school resource officers. Lockdown procedures typically use codes (red, yellow and green) to explain the current safety threat. Schools also receive a Critical Incident Response Kit (CIRK), which provides information and materials to help schools with crisis response.
CMS, Gaston and Cabarrus county schools use the Connect-Ed Notification System to alert parents to crisis situations. CMS also uses the Connect 5 telephone system to alert parents about school emergencies. Contact your student's school if you are not getting updates.
Dr. Christopher Lowder, assistant superintendent of administrative services for Cabarrus County Schools specified that, like most other schools in the Charlotte area, parents in Cabarrus County, "can get the mass notifications through their cell phones," or emails for a various amount of circumstances: in the case of a school cancellation, lockdown, or even if there is an unaffiliated emergency nearby.
Gaston County Schools and Cabarrus County Schools work very closely with their local police departments for security and support and Charlotte Mecklenburg Schools collaborate with their own Charlotte-Mecklenburg Schools Police Department.
Due to the high prevalence of bullying in the recent years, many school websites go in depth into educating both children and parents on how to prevent, respond and advise bullying in an effort to curb bullying and reaction by victims of bullying that could jeopardize the school population. CMS organizes an Engage Summit every year with students from across the district to help empower students to stand up against bullying. GCS also participates in an anti-bullying campaign called Rachel's Challenge, named after the first victim in the Columbine High School tragedy, in their schools to combat bullying and unkind behavior by encouraging a culture of compassion among students.
Examining School Safety

North Carolina officials say one of the best ways to create safer schools is for parents and students to be involved in school safety.
Lowder says, "information and procedures," are the best tools when it comes to keeping children as safe as possible. He adds that, "the best strategy is having people who are aware," and knowledgeable of when to execute appropriate protocol.
When it comes to admittance into school buildings, one of the biggest improvements for Cabarrus County Schools is their buzz in system. Some schools in the district already had the system, but "we made it a priority to put it in every school," to improve the safety of students, faculty, and staff, Lowder says.
Lowder adds that Cabarrus County Schools is "going to have a table-talk discussion," sometime in August with their respective police officers, school administrators, and faculty to review emergency scenarios.
Parent Involvement is Key
Cabarrus, Charlotte-Mecklenburg, and Gaston County schools' websites each have information tailored to parents regarding school safety. Parent awareness is a significant aspect of having children educated about safety precautions. "Parents point out our blind spots," and serve a key role in creating safer schools, says Lowder.
What Lockdown Codes Mean
Code Red: An immediate threat means students will be moved into safe areas, and all interior and exterior doors will be locked.
Code Yellow: If there is something in the community that may pose a threat to the school, such as a bank robbery or police chase in the neighborhood, a "code yellow" community lockdown will be issued. All outdoor activities will stop and students will move into the building. Outer doors will be locked and movement between buildings will be prohibited, but all other activities will continue as normal.
Code Green: Declared when the incident passes to end the lockdown.