Sacking Hunger and Helping Others
The Howe children learn about giving back with their school food drive.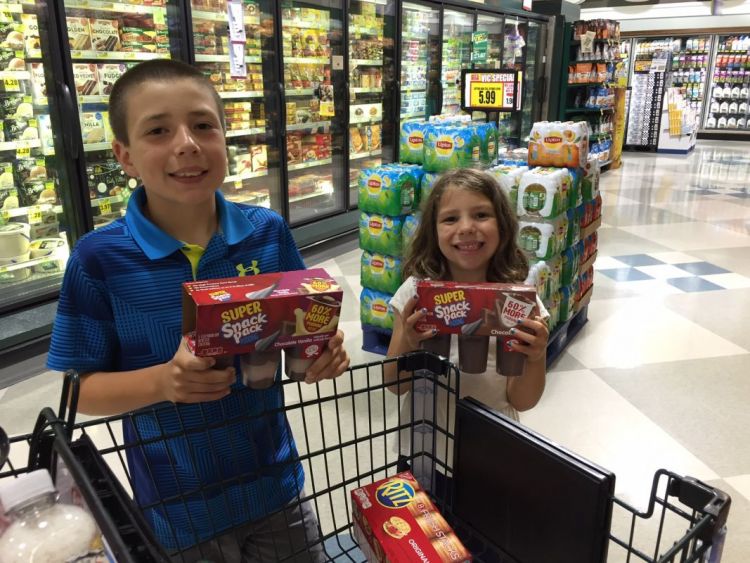 This is the last week of school for Tyler and Molly. Thursday at 3:15 p.m., I will officially be the mom of a rising fourth grader and a rising first grader. They have both had a great year at Torrence Creek Elementary School. They did well academically and socially, and participated in extracurricular activities and community service initiatives. They also had amazing and dedicated teachers who cared about them and ensured that they were safe and loved for seven hours a day, five days a week.
Starting next week they will attend a variety of camps where they will meet new friends, swim and try different sports and activities. Mornings will still be hectic. Instead of packing backpacks with school books and agendas, we will be packing bathing suits and towels, and applying sunscreen as we head out the door. There will also be swim meets, baseball tournaments and trips to the beach this summer.
One thing my kids do not have to worry about this summer is having food to eat at lunchtime. I know that this makes us lucky, and I don't take that for granted, nor will I let my children take it for granted. There unfortunately are some children right here in our community that do have to worry about this. During the school year over 1,500 elementary children in our area receive free lunches at school. When school is out for the summer, some of these children's families struggle to provide three meals a day.
The Angels and Sparrows Soup Kitchen in Huntersville is on a quest this summer to ensure that all Huntersville and Cornelius children have food for lunch over the summer. Torrence Creek Elementary is helping to support this effort by hosting a food drive this week. The items being collected include individually wrapped fruit cups, crackers, pudding cups, popcorn, cereal bars, protein bars, Rice Crispy Treats, fruit leathers, chips and full bottles of ranch dressing.
Todd and I have made a conscious effort to incorporate community service and a sense of social responsibility into our family's core values. So, when I saw the food drive information in my inbox, I knew right away that this was something the Howe Family could and would help with. I also thought this complemented what we have been doing with the Fit Family Challenge. To us this challenge is not just about nutrition and exercise. It is also about spending time together as a family and taking advantage of opportunities to help others in the community.
I could have added a few of the food drive items to my online shopping order this week and crossed the task of my to-do list, but I decided against that. Instead, I took Tyler and Molly to the grocery store and let them push the cart up and down the aisles, to pick out the food items they felt their peers would like. I instructed them to choose 12 items, one for each week we are participating in the Fit Family Challenge.
Both kids were very receptive to our shopping trip and understood why we were doing this. They took their time picking out the items, and only bought things that they, themselves, would eat and enjoy. They also picked pretty healthy items, along with a few treats. Who doesn't like an occasional Rice Crispy Treat or pudding cup after having some fruit? All we have been talking about and doing during this challenge is sinking in – hooray!
I am so glad that this challenge has shown Tyler and Molly how to take care of their hearts by eating healthy and exercising, and also how to grow the love in their hearts by helping others. I feel lucky to be their mom!
---
Jennifer Howe and her husband Todd, and children Tyler, 9 and daughter Molly, 6, are participating as one of our 2016 Fit Family Challenge spotlight families. Learn more about their healthy family journey here, and follow along with Jennifer as she updates us this Spring and Summer in the Fit Family Challenge Blog.