Roasted Potato and Grilled Chicken Salad Provencal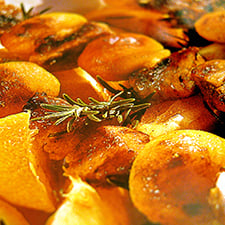 Ingredients:
1 cup fresh basil leaves
1 cup grated Parmesan cheese (the more aged the cheese, the better)
½ cup pine nuts
1 cup extra virgin olive oil
2 tablespoons drained capers
1 can black olives, chopped
2 red bell peppers, thinly sliced
Additional pine nuts
3 1/4 pounds of small potatoes
3-4 boneless chicken breasts or thighs, seasoned with salt and pepper
Directions:
1. Make pesto by putting basil, Parmesan and ½ cup pine nuts together in a food processor fitted with a steel blade. With the machine running, drizzle in the olive oil until the mixture forms a paste. Reserve.
2. Place potatoes in a large roasting pan, and season to taste with coarse sea salt and pepper. Bake in a preheated 375- to 400-degree oven about 40-50 minutes. If the potatoes are very small, you can saute them until tender on the stovetop in a bit of extra virgin olive oil, sea salt and pepper.
3. Meanwhile grill, broil or saute the seasoned, boneless chicken breasts or thighs approximately six minutes on each side. Cool slightly, then slice.  
4. Toss roasted potatoes gently with pesto, capers, black olives, red pepper strips and remaining pine nuts. Fold in the sliced chicken and toss to combine. Serve hot, warm or cold. 
Heidi Billotto is a culinary expert who hosts cooking classes throughout the Charlotte area.