Ride On: Family-friendly bike paths in the Carolinas and Virginia
Hit the trails with these family-friendly bike paths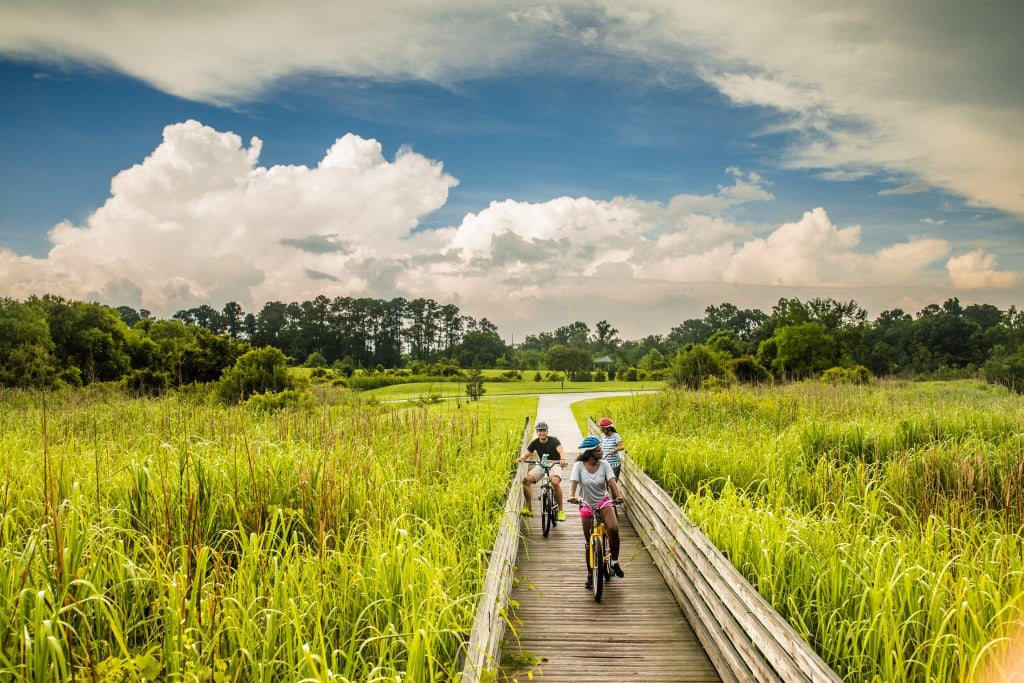 A bike ride adds a sense of adventure to a family vacation or day trip. Kids can practice new skills on paved paths and more experienced riders can challenge themselves with more technical rides. Fortunately, the Carolinas and Virginia offer plenty of options for families.
Ben Cooley, owner of Bicycle Sport in Myers Park, rides with his family throughout the Southeast. His favorite trail in Charlotte is the Little Sugar Creek Greenway. It has more than 19 miles of trails beginning at Cordelia Park in NoDa and ending at the James K. Polk State Historic Site in Pineville.
Cooley shares his top 10 tips for making a family ride safe and fun:
Get the whole family involved. Choose where to ride based on your family's level of experience. Discuss expectations about the length of the ride, the number of stops, and what you might see along the way.
Be prepared. "Surprises cause stress," Cooley says. Know the location of the trailhead and check the weather. Many parks have trail maps and apps with detailed information.
Match the bike to the trail. Gravel and dirt paths typically need a mountain or hybrid bike with a wider tire, while a paved trail works for most styles of bicycles.
Dress appropriately. Wear close-toed shoes (no sandals or flip flops) and padded shorts for longer rides. Layers are helpful when conditions change on the way up or down a trail.
Think safety. Everyone wears a helmet–even the parents. Let a family member or friend know where your family is biking. Cell phone connections aren't reliable on mountain trails.
Check equipment. Are all bikes in working order? Do the bikes fit the rider (kids grow quickly)? Do the brakes work? Are the tires pumped and free from rot?
Bring tools. For an enhanced experience, bring a flat repair kit. Flats happen and it's best to be ready for them on a trail.
Be aware of your surroundings. Watch for hikers and other bikers. Look out for potential hazards like branches, rocks, and tree roots on the trail.
Refuel. A pit stop is always better with snacks and water.
Pack a good attitude. "Being ready for whatever comes at you is half the battle," Cooley says. "If you have a good attitude, then it's going to be a lot more fun."
Check out these 12 trails for a family bike ride:
NORTH CAROLINA
Bald Head Island, Brunswick County
Take the Bald Head Island Ferry from Southport and rent bikes (tandems, trailers, and other equipment is also available) at the Riverside Adventure Co. Wander through car-free streets and under trees covered in Spanish Moss. Head to Old Baldy Lighthouse, the beach, or grab a snack at the Maritime Market.
Deep River State Trail, Randolph County
Cruise on easy paths along creeks, through woods, and over bridges on various segments of this trail. Most are 1 to 2 miles in length and many connect for longer rides.
Fonta Flora State Trail, Morganton
Start this family-friendly trail at Fonta Flora County Park. More than 20 miles of mostly flat, natural surface trail brings bikers around Lake James, through woods and across a covered bridge. Rent bicycles at Overmountain Cycles in downtown Morganton.
Jacksonville Trails and Greenways, Jacksonville
Meander through city parks, memorials, and waterfront along more than 19 miles on the Jacksonville Trails and Greenways. The trail connects to the Jacksonville-Camp Lejeune Rails-to-Trails Greenway. Start at Wooten Park for a 12- to 13-mile loop or ride out and back and hang out at the playground and picnic area.
SOUTH CAROLINA
Baxter Village Trail, Fort Mill
Travel through 3.3 miles of moderate to difficult mountain biking trails though woods and streams. Parts of the trail are hilly and add a few miles by connecting with the Carolina Thread Trail. Park at the Fort Mill Library and hop on the trail.
Croft State Park, Spartanburg
With more than 7,000 acres, Croft State Park has various levels of bike trails through woods and along creeks. The 12.6-mile Palmetto Trail is moderate and crosses brooks, follows ridges with views of woods, and homestead remains. The 9.7-mile Southside Loop winds along Fairforest Creek and is a moderate to strenuous trail. Riders enjoy the rolling terrain and range of different habitats.
The Daniel Morgan Trail System and Vic Bailey Subaru Bike Park, Spartanburg
The Duncan Park trail is a 6-mile off-road bike trail within the Daniel Morgan Trail System (a.k.a. "The Dan") that winds through Duncan Park. Test your family's technical skills at Vic Bailey Subaru Bike Park with 10 elements including wood and dirt flow trails, wooden wall ride, and a pump track.
The North Augusta Greeneway, North Augusta
Follow the Savannah River on this wide paved trail that's ideal for new riders. Park at the Riverview Park and explore Hammond's Ferry and the waterfront. Rent bikes in a variety of sizes and styles from Andy Jordans Bicycle Warehouse, a short distance from the trail. Break for lunch at Manuel's Bread Café for burgers, salads, and sandwiches.
More adventurous mountain bike riders will appreciate this moderate to difficult 3.2-mile steep trail in Oconee Station State Historic Site.
Piedmont Medical Center Trail at Riverwalk, Rock Hill
This paved 3.3-mile trail runs along the Catawba River and has rolling hills with several places to stop to rest and take in the views. Legal Remedy, Libbie's Bistro, and the Pump House are great places to grab lunch at Riverwalk.
VIRGINIA
New River Trail State Park, Max Meadows
Roll on 57 miles of easy to moderate rails-to-trails pathways along the New River. Tables and grassy areas on the riverbank are perfect for picnics. Head to the Hoover Mountain Biking Area featuring steep hills for experienced riders.
Virginia Creeper Trail, Damascus
This rails-to-trails ride is an easy 17-mile downhill ride from Whitetop Station to Damascus. It crosses nearly 50 wooden trestles and intersects with the Appalachian Trail. Bring your own bikes or rent them from a shop in Damascus. Pro tip: reserve space on a shuttle to bring your family and the bikes back to your car—the ride back uphill is a tough one.
VANESSA INFANZON is a Charlotte-based writer and mom. Follow her on Instagram and Facebook @morethanVMI.