Rewards Just Ahead
Small rewards keep the Hill family motivated during the Fit Family Challenge.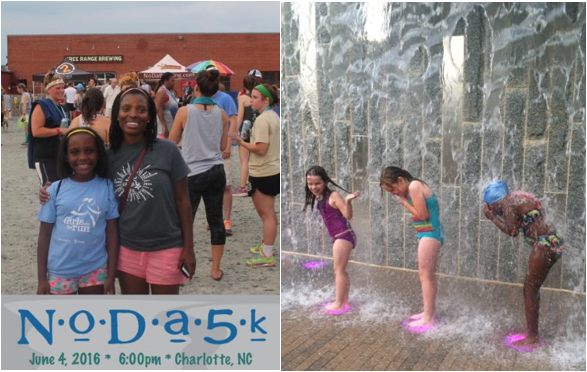 "What are you going to do with all of your free time?" I get that question a lot from friends who know that this is the last week of school for Lena before she heads to Ohio for the summer.
A lot of my physical activity time is built into just being mom. Everything that Lena and I do, we do together and we do with friends; Lena's friends and my friends. We've made such great strides making healthier choices together during the Fit Family Challenge. From our decision to be more active, running a 5K, walking and riding our bikes, to our nutritional gains, making healthy homemade meals and increasing our water and fruit intake. I'm pretty proud of us.
Lena is participating in two summer camps this summer, one of which takes place at The Ohio State University. She's pretty excited about it and I look forward to hearing how she responds to playing more traditional sports and recording her physical activity time in the Fit Family Challenge point tracker. Lena's activity will be built into her summer camp days. Mine … not so much. I'll have to be MUCH more intentional about hitting my physical activity goals once Lena leaves. But, I'm up for it. In fact, I'm really looking forward to it.
As for now, we're enjoying our few days of summer. I want Lena to relax and to have fun before we both jump head first into our summertime commitments.
This weekend, Lena and I spent some quality time out and about at various Charlotte events including the NoDa 5K followed by a cool-down day at Romare Bearden Park. We got pedicures with our friends, and enjoyed some fresh-fruit popsicles from King of Pops.
Maureen, our Wellness Coach, talks a lot about rewarding ourselves for achieving our goals and making daily improvements toward healthier living. I know that I don't do that enough. In fact, I told Maureen that I didn't even know what type of reward would be enough of an incentive for me. What are the things that I love?
Well, I love a lot of things. But, most of all, I love being a mother and I love hanging out with my kid. Interestingly enough, the thing that seems to stress me out the most (being a parent) is also where I find the greatest reward.
So, for these next few days, while Lena and I still plan to stick to our healthy choices, we'll simply be enjoying our time with each other. Swimming and spending time with Lena's friends. Laughing and giving each other plenty of hugs.
---
Ami Hill, 35, and daughter Lena, 9 are participating as one of our 2016 Fit Family Challenge spotlight families. Learn more about their healthy family journey here, and follow along with Ami as she updates us this Spring and Summer in the Fit Family Challenge Blog.