Rethinking Your Gifting This Holiday Season
Gifts that spark imagination, inspiration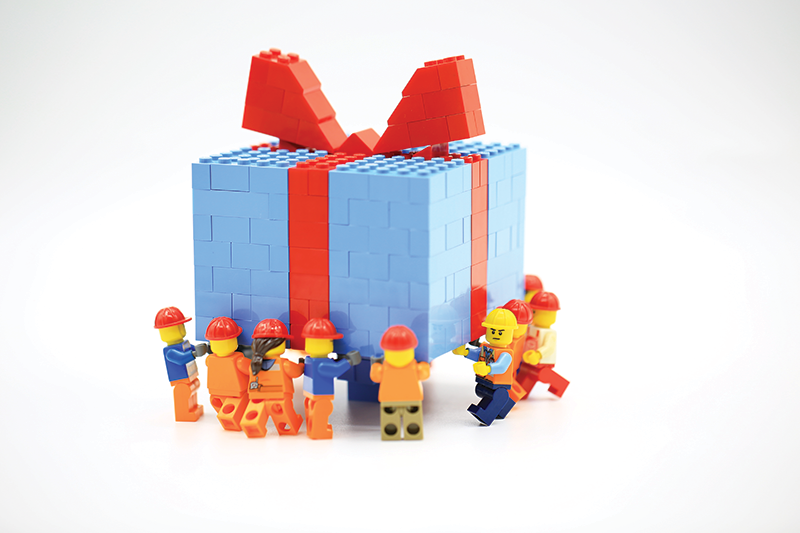 What parent doesn't want to give their child gifts they will love? While digital screens and video games may be at the top of your child's list this season, there are other great gift ideas when you think outside the box. Instead of following the latest tech trend, give gifts that empower your kids, grow their brain, teach responsibility and shape their character.
Art
Children are explorers, and art provides a world where they can color outside the lines and discover new ideas, create their own world, see that problems have more than one solution, and allow their imagination to flourish.
Gift ideas: art supplies, clay, sketch pads, stickers, Tinker Crate, and craft kits.
Music
Music makes everything more fun, including cleaning your room and shooting hoops in the driveway. It is soothing for the soul and awesome for those neuronal connections. Play it often in your home and make music a part of your child's — and your —daily routine.
Gift ideas: instrument, music lessons, CDs, portable speaker, and headphones.
Sports
Children may not win every game or even be good at sports, but they are meant to move a lot. Your child's brain needs movement to properly develop.
Gift ideas: balls, Frisbee, sports equipment, trampoline, and ping-pong table.
Hobbies
A hobby is not necessarily an organized, scheduled activity, but we all need an activity to call our own. It evokes a feeling of ownership that allows us to grow at our pace, to find rest, relaxation, and joy in doing.
Gift ideas: cooking supplies, camera, photo printer, scrapbook, sewing machine, and yarn.
Critical Thinking
Every child needs to be challenged. When you give the gift of critical thinking, you are giving a gift that can pay off huge dividends later. Competition is good too, but strategy games can be done alone (Rubik's Cube) or with another player (chess). They teach the art of planning an action to reach a certain outcome.
Gift ideas: board games (Clue, Settlers of Catan, Ticket to Ride), Legos, and crossword puzzle books.
Reading
Teaching your child to love reading is priceless. He will never be lonely with a good book, and he'll learn to use his imagination as he immerses himself in far-away places. He will also learn how to feel empathy when he connects with the characters in the book.
Gift ideas: book series, comic books, or a magazine subscription.
Fashion
Most kids don't get excited over new underwear and robes, but many love team jerseys, college logo wear, and trendy attire. Don't underestimate the power of a superhero costume or nice jewelry.
Gift ideas: clothes, shoes, costumes, purses, hair bows, pajamas and team gear.
Pets
Pets provide hours of entertainment for your kids and tons of love. Dogs especially provide a daily lesson in what unconditional love looks like, and the added bonus of the responsibility of having to care for something other than himself.
Gift ideas: fish, hermit crab, hamster, rabbit, cat or dog.
Your Time
The most valuable gift you can give your child is the gift of your uninterrupted non-tech time. Think in terms of talking, building your relationship, and relaxing or playing with your child one-on-one.
Gift ideas: coupon book for ice cream trips or one-on-one dinners out, camping trip, or painting your child's room.
Childhood is gone in the blink of an eye. It's a time when life-long memories are made and bonds are formed that can keep families close for years to come.
Melanie Hempe is the founder of Families Managing Media. For more information, visit familiesmanagingmedia.com