Respite Care: You Deserve a Break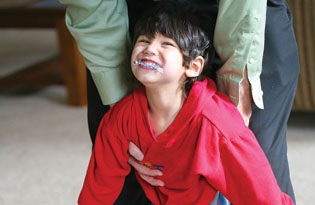 Caring for a child with special needs can be a 24-hour-a-day job, with limited downtime to take care of family matters, catch a movie or just relax on the sofa. Yet parents of children with special needs desperately need a break to rest, relieve stress and get re-energized, says Laura Warren, executive director for Texas Parent to Parent, a statewide program that provides support, information and education for families of children with disabilities, chronic illness and special health care needs.
"Respite care – help caring for a child with disabilities or special health care needs – is something that every parent asks for, but few get," says Warren, who has been involved in parent support for 22 years. "Many children with disabilities don't sleep more than a few hours at a time; these parents make choices between getting chores done or taking a shower, or sleeping while their child is sleeping. There is no good choice in that scenario."
Unlike families of typical children, who can hire a neighborhood teenager to baby-sit when they need a night out, respite care requires someone with specialized skills to cover the child's needs. Respite can be provided by trained family members in the home or by professional respite workers in or outside the home. Although it is one of the most often-requested services from parents of children with disabilities, it is the least one provided.
At Wit's End No More
Before she found in-home respite care about three years ago for her daughter Kiana, who is now 13, Schandrilla Schlesinger faced an agonizing decision. Each day, the single mom of four would wake up at 5 a.m. to care for Kiana – who has cerebral palsy and epilepsy – and her three younger siblings. Schlesinger was exhausted and stressed beyond her limits.
"Usually within two hours after dropping Kiana at day care, I'd get a phone call saying the paramedics were there because she'd had a seizure and gone into respiratory depression," says Schlesinger. "I'd leave work and meet Kiana at the hospital. I lost numerous jobs, and after looking for respite care for nearly seven years, I was on the verge of giving up. At one point, I was considering giving up custody of Kiana and making her a ward of the state (so she could get proper help)."
Schlesinger's friend suggested she ask her pediatrician for help. After being evaluated by her local health and social services agency, it was determined that Kiana's condition qualified her for a trained caregiver for about 200 hours a year.
"It was such a blessing. I could choose to have in-home services, or have someone take Kiana to different activities, just to give me a break," says Schlesinger. "Then I found out that I could have a family member get an income to care for her, so my mother got training. She lives with us now, and it's just so awesome."
In-home or Out?
It's important to choose the right respite program for your family's needs. "If you want to be at home to relax, then you want to take your child to a center. If your child doesn't do well in strange places, then you might want a home-based program. If your relaxation is shopping, then either type would work," Warren says.
Respite care programs not only provide a much-needed break for the caregivers of a child with special needs, they also enable the child to enjoy being among friends. Many children with disabilities are cared for at home and might feel socially isolated. Programs that also accept siblings of children of special needs are great places for kids to meet friends who understand them.
Like-minded Friends
Many parents whose children attend respite care programs forge lasting friendships, like Michelle Gulley and Joan Seeley, who met at a church-based respite care program that accepts siblings and offers arts and crafts, computer games, shows and gym time.
Gulley and Seeley joined seven years ago, when their sons James and Josh – both of whom have Down syndrome – were just 6 months old. Since then, both families have dropped off their children at the program on the first Friday of each month, and often double date while their kids play together.
"Night Lights (the church-based respite care program) has been amazing for our entire family," says Gulley, a mom of three. "James is really high-functioning in many ways, but he lacks judgment, so it's really hard to find someone to care for all three of my children at the same time. Even family will only take my two typical children, or just James; never all three at the same time. They've all made tons of friends, other kids that have siblings with special needs, which is fabulous for them."
Meeting other parents who deal with similar challenges has been a huge relief, she says. "Going to the grocery store, I don't often see other kids with Down syndrome, but at Night Lights, you see lots of kids with Down syndrome. It's refreshing to have that 'you're not alone' feeling."
Wendy Helfenbaum is a writer and television producer in Montreal.