Remembrance and Renewal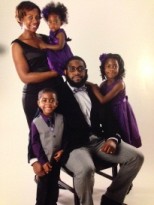 2015 is nearly a month old, but the excitement, possibilities and hopes for a prosperous new year remain intact and intriguing!  As you continue to put your best foot forward and make the most of 2015, consider sharing the following titles with your child.  By inspiring, informing and/or renewing your mind and spirit, these titles will help you and your children continue to look forward to new beginnings and reflect on the past year (or years) gone by!
In Shante Keys and the New Year's Peas by Gail Piernas-Davenport, Shante Keys loves New Year's Day and is excited about the brining in the New Year with family, fun and food, of course! Along the way, Shante also learns about the various New Year's traditions and celebrations that exist in other countries. This book is both a great read and a great resource for children as it uses the New Year to introduce children to different cultures and customs around the world.  Though originally published in 2007, this modern favorite is now available from the Charlotte Mecklenburg Library as an ebook as well!

As important as new beginnings are, it is equally important to remember and reflect on the past. I am Jackie Robinson by Brad Meltzer is definitely an inspiring and reflective read for children and families!  One of a series of picture book biographies titled Ordinary People Change the World, this book is steeped with great illustrations and some comic-style text that will have great appeal with children in grades K through 3rd.  I am Jackie Robinson also succeeds in reminding us all of Jackie Robinson's accomplishments and his place in our nation's history, while encouraging children to always strive to be the best they can be!

With the recent 29th annual celebration of Martin Luther King Jr. Day, it is nearly impossible not to be reminded of the past and the contributions and sacrifices made by others such as Jackie Robinson and Martin Luther King Jr. himself.  In We March by Shane W. Evans, the 1963 March on Washington is presented in a manner that is both aesthetically pleasing and age appropriate.  The story depicts the events of the march through the lens and voice of the people who embark on the journey and then bear witness to MLK as he delivers his now famous "I Have a Dream" speech.

The New Year presents the perfect opportunity to reflect on the past, renew ourselves and our dreams and reimagine the possibilities!  Visit the Charlotte Mecklenburg Library to borrow, return or renew these and other titles for the entire family.  Happy reading and enjoy the remainder of 2015!