Red, White and Blue Summer Salad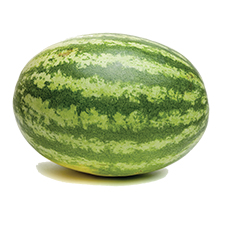 Watermelon and Tomato Salad with Crumbled Bacon and Blueberry Dressing
Here's a fun red, white and blue salad to celebrate the local flavors of summer and the fourth of July, too.
Ingredients
1 small seedless watermelon
2-3 local tomatoes, sliced
1/2  cup Bosky Acres local goat cheese or any other plain goat cheese
1/4 cup organic heavy cream
Locally grown mint leaves, minced
1 cup crumbled cooked bacon — you can use pork bacon, turkey bacon or vegetarian bacon
1 head of your favorite local lettuce
About a cup of fresh local or organic blueberries
For the blueberry dressing:
2 cups local or organic blueberries
1 cup apple cider vinegar
1 tablespoon local flat leaf parsley,  minced
1 tablespoon local thyme, minced
1 tablespoon local tarragon, minced
1 tablespoon Dijon mustard
1 tablespoon local honey
1/2 cup your favorite extra virgin olive oil
1. Cut the watermelon into cubes or balls and place in a colander lined with a coffee filter to absorb but save excess liquid. Allow watermelon to drain for at least 30 minutes.
2. Slice the tomatoes, lay them out on a plate in a single layer and sprinkle them with a bit of salt and pepper.
3. Combine the goat cheese and the heavy cream with a pinch or two of the minced mint. Reserve.
4. Mash two cups of local blueberries and put them in a bowl with 1 cup apple cider vinegar. Let stand for 30 minutes or longer — they can sit as long as 3-4 hours. Drain and save the vinegar to use for this salad dressing.
5. Make the salad dressing by combine all the dressing ingredients in the now blueberry vinegar and then whisk in the olive oil. Taste the dressing before you use it and add more honey or salt and pepper as needed.
To serve: Arrange the watermelon balls and tomato slices on salad plates with individual beds of lettuce. Top with the goat cheese and mint mix. Drizzle with blueberry dressing and top with a sprinkling of crumbled  bacon  and a few fresh blueberries – delish! 
Heidi Billotto is a local culinary expert who hosts cooking classes throughout the Charlotte area.