Reclaiming the Weekend
Build the stage for peaceful consistency over the weekend, without losing out on flexibility and fun.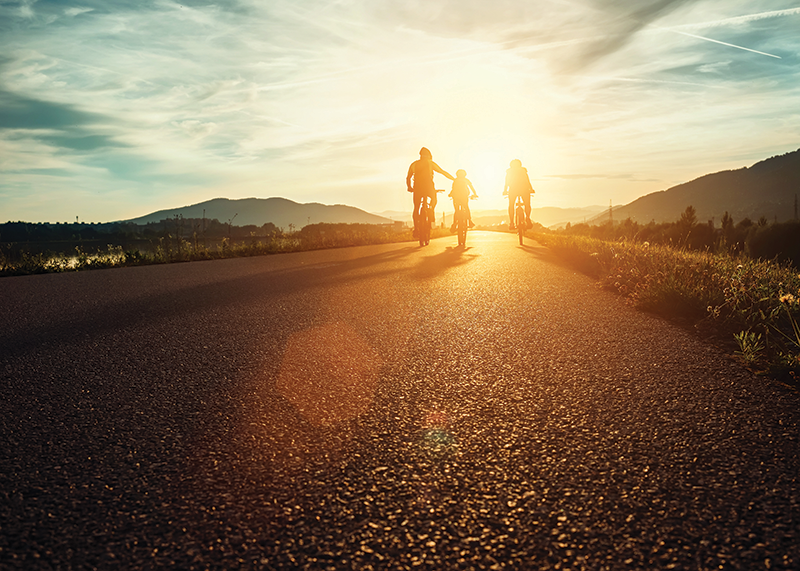 On late Sunday evening, my head is spinning as we finish the bedtime routine and survey the damage left from an average family weekend at home. I glance at my preschooler, generally a ball of sprightly energy, lying in bed as if she fell backward into it, arms draped behind her head. The weekend has exhausted even her, and I look at my husband with a shrug. Sunday evenings have always been a low point for us — when the weekend slides out the back door like a sly cat and we're left pacing along the porch calling its name.
"We need to do weekends better," we agree over stacks of dinner dishes. Already operating in recovery mode from a long work week we decided it was time to take back our weekends. Here are some methods we recommend to try and establish a weekend rhythm that works for the whole family without the chaos.
Keep Sleep Sacred
Avoid the trap of allowing kids to stay up late as a weekend treat. What starts as a Friday movie or bowling night ends on Saturday with a crabby child and protests at bedtime. Follow the same sleep schedule you've established during the week. Experts say a consistent bedtime is critical for the developing child, but it also offers precious time for parents to recharge. If you have multiple children with different bedtimes, consider special evening activities for older children like crafting or puzzles they can do alone while you relax.
For parents, instead of staying up late for extra down time, alternate duties like the morning breakfast routine, or bath and bedtime with your partner. Plan and agree upon a time slot to rest or catch up on well-loved hobbies you've been neglecting.
Plan Meals Without Breaking the Bank
Knowing what's for dinner and at what time makes life a little less chaotic. Turns out, when faced with the choice of ordering pizza over running to the grocery store with a toddler, pizza wins every time.
Even if you intend to eat out, be sure to plan each meal to avoid overspending. Make a point to discuss menus, shop and prepare meals as a family, like homemade pizza night, whenever possible to teach children a myriad of skills and create lasting memories.
Avoid feeling like a short-order cook on weekends by eating at the same times each day and keeping healthy snacks in a drawer or bowl within reach. Free mobile apps like Big Oven can help streamline grocery shopping to maximize time.
Local Activities
While weekend outings can save your home from total destruction, gathering enough energy to usher children out the door is another matter. Local parks, museums, concerts and festivals have flexible hours and offer levels of engagement for all ages. Simply getting outside in a backyard or green space for a picnic or campout can become an exciting adventure.
To gauge your family's interests, make an activity jar together and take turns pulling fun activities. My family discovered an interest in hiking. Now we map and track our adventures online with Kids in Parks. Finding a family pastime helps create that peaceful rhythm we all strive for on weekends.
Sunday Staycation
If you find yourself exhausted come Sunday evening, consider scaling back on social activities and unplugging electronics for a staycation. For example, when birthday invites flooded our daughter's schedule, we learned to politely decline in exchange for a slower pace at home.
Start small by choosing a rainy day to play a new board game and work your way up to no plans at all. Children may surprise you with dramatic play or an elaborate blanket fort when left to entertain themselves.
Treat Yourself
Take time to recharge, and therefore set the tone for an amazing weekend by scheduling mornings, afternoons or nights out at least once a month. Mark your calendar with a recurring visual reminder for the family to look forward to.
Dropping the kids off with family, friends or a much-loved sitter helps build memories, stronger bonds and a lasting support system. For especially overwhelming weeks, make those last minute spa plans and try out an hourly drop-in child care center, or visit a gym with child care for a workout and long shower.
Hiring a mother's helper, house cleaner or lawn care service for the busiest years of parenthood can make a world of difference in your perception of weekends spent home with the kids.
The dance of parenting changes as fast as the children grow, as does the rhythm we set. Build the stage for peaceful consistency over the weekend, without losing out on flexibility and fun.
---
Lilly Vicens lives in the Lake Norman area and is a freelance writer and mom to a lively preschooler.