Reality Check: Nichelle Nicholes Levy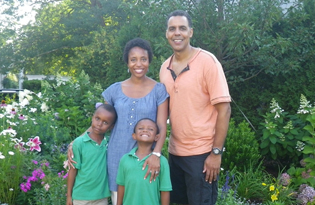 Take a peek inside the life of local mom Nichelle Nicholes Levy and get a glimpse of everyday parenting – from the madness to the mess-ups!
Vital Stats
Nichelle Nicholes Levy, 43, is an attorney at Robinson Bradshaw & Hinson P.A., a board member for the Harris YMCA, and executive board member with Jack & Jill of America, South Charlotte Chapter. She also a graduate of Leadership Charlotte.
Family Tree
Lives in Providence Plantation with her husband Sid Levy, Jr.; and sons, Sidney Levy, III, 7, and Nicholes, 6.
Parenting Rule No. 1
No disrespect for each other or other people. I frequently remind them to treat each other with kindness, and that how they treat others should reflect how they want to be treated.
Don't You Dare
Fight and throw things. My boys are each other's best friend most of the time unless one senses that the other has unfairly gained some sort of advantage over the other. I find myself in the role of referee in these disputes.
Fave Phrase
I'm only going to say it one time, if I have to say it again there will be trouble!
Favorite Family Activity
Time spent together at home, whether its dinner around our kitchen table, dancing along with music or a performance on television, or working in our garden.
Personal Indulgence
Reading, any kind of reading, whether it is the Sunday New York Times or a book.
On Your iPod
"There is a King in You" by Donald Lawrence.
Top Tip
No matter what is going on, take a deep breath and pause to consider how blessed you are to have your beautiful children and family. Also take care of yourself – physically, mentally and spiritually – in order to refill your tank and have something to contribute to your families.