Reality Check: Natalie English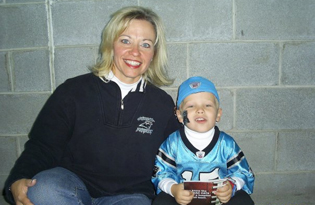 Take a peek inside the life of local mom Natalie English for a glimpse of everyday parenting — from the madness to the mess-ups!
Vital Stats: Natalie English, 43
Senior Vice President of Public Policy at the Charlotte Chamber. Serves on many local and regional Boards, including Leadership Charlotte, US Airways Education Foundation, New Leaders for New Schools and Charlotte Mecklenburg Workforce Development Board. Recipient of the 2010 National Association of Women Business Owners Charlotte Community Service Award; honored as one of the Mecklenburg Times 50 Most Influential Women in 2009; and received the Charlotte Business Journal's Women In Business Achievement Award in 2008.
Family Tree:
Single parent to 6-year-old Rick; the family lives in Highland Creek in the University City area.
Get Real:
I'm a bit of a neat freak, and my son seems to exhibit that trait as well. Everything isn't in its place every minute of every day, but the house is not chaotic.
"Don't You Dare":
My son pushes my buttons when he's too smart for my own good. Seriously, he is really bright and sometimes makes a really good case for why he shouldn't have to do things the way I tell him to. He also whines, and I tell him I don't understand that language.
Parenting Rule #1:
My son doesn't get away with being disrespectful with anyone, including his friends.
Fave Phrase:
I'm guilty of saying, "because I said so" … when Rick makes that great case for not doing something I say or not doing it the way I want.
Top Tip:
When I was pregnant, I read that if you talk baby talk to your young children, they will talk baby talk back. I have always spoken to my son like I would any other person. He has a fantastic vocabulary and is a mature communicator.