Reality Check: Michael Thompson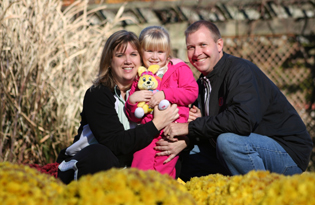 Take a peek inside the life of local dad Michael Thompson for a glimpse of everyday parenting — from the madness to the mess-ups!
Vital Stats: Michael Thompson, 39
Director of Corporate Communications for the Charlotte Bobcats, 11th season in the NBA.
Family Tree:
Married to wife Tara and dad to daughter Madeleine, 5. The family lives in Fort Mill, S.C.
Get Real:
Our house seems to teeter right on the brink between orderly and chaotic; I'm the neat freak in the family. Framed photos and artwork from the places we've lived help to make our house a home. … From furniture to pictures on the wall, every room tells a story about who we are and where we've been.
Don't You Dare!
Whining is my biggest pet peeve. Some days it feels like Maddie can whine about anything. I'm usually pretty patient, but when she's in the mood to whine, it's like fingernails on a chalkboard.
Parenting Rule # 1:
Be accountable. If we say we're going to do something, then we do it. Our daughter has a great memory, so we know that if we promise to do something fun as a family on Saturday, she's going to hold us to it.
Fave Phrase:
"Put it away, please."
Top Tip:
Let your kids experience things, and don't be afraid to take them places. Maddie goes to NBA games, symphony concerts, the ballet, the park, and at least one place with a bouncy house every month. She's been to 15 states already and spent a week on an island off the coast of South America. She's stood in Times Square, watched them throw fish at the market in Seattle, adopted a sea turtle in the Florida Keys and touched the walls of the Alamo in San Antonio. Kids have the remarkable ability to adapt to new settings — embrace each opportunity to see how they'll react to a new experience.