Reality Check: Kathleen Jameson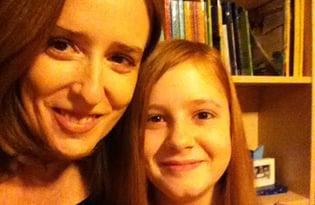 Take a peek inside the life of local mom Kathleen Jameson and get a glimpse of everyday parenting — from the madness to the mess-ups!
Vital Stats:
Kathleen Jameson, 42
President and CEO at the Mint Museum
Family Tree
Lives in Elizabeth with her partner John, daughter Bella, age 9, cats Cleo and Luna, and new chocolate lab puppy Rose.
Parenting Rule #1
Be honest and tell the truth.
Fave Phrase
We've got to hustle our muscles! We're late!
Favorite Family Activity
Watching movies at home with popcorn.
Personal Indulgence
Netflix.
On Your iPod
David Bowie, Wilco, Yo La Tengo, Belle & Sebastian, The Who, Miles Davis, The Roots, Odetta, Caetano Veloso – I love all kinds of music!
Top Tip
Always keep the lines of communication open. Bella and I are best friends, and I hope she always knows she can talk to me about anything.