Reality Check: Juan Pablo Montoya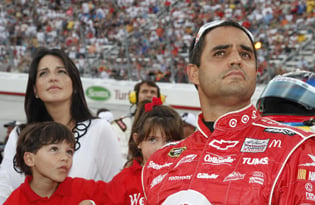 Take a peek inside the life of dad Juan Pablo Montoya and get a glimpse of everyday parenting – from the madness to the mess-ups!
Vital Stats: Juan Pablo Montoya, 35
NASCAR Sprint Cup Series driver of the No. 42 Target car and co-founder of the Formula Smiles Foundation. In March, MTV Latin America and the Inter-American Development Bank recognized him as an "Agent of Change" for his charitable work. Montoya also was presented with a Fatherhood Award from the National Fatherhood Initiative on June 20 in Sonoma, Calif., during the pre-race festivities for successfully balancing his busy career with the needs of his family.
Family Tree:
Married to Connie and the father of three children, Sebastian, 5, Paulina, 3, and Manuela, 2 months.
"Don't You Dare":
When I tell the kids "No," and they continue to do it. That drives me crazy.
Parenting Rule #1:
No being rude. Fave Phrase: Everything I tell my kids, they immediately come back with, "Why?" The fifth time they ask, I always answer, "Because I say so."
Spill It:
(It's embarrassing) when I'm telling people how well behaved they are and then they come along and act all devilish. They make me look like an idiot.
Top Tip:
Enjoy every minute because children grow up so fast, and as they get older, they don't want to spend as much time with their parents.