Reality Check: Geraldine Brisbane Crooks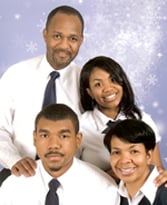 Take a peek inside the life of local mom, Geraldine Brisbane Crooks, and get a glimpse of everyday parenting — from the madness to the mess-ups!
Vital Stats: Geraldine Brisbane Crooks, 40(ish)
Founding Director of Brisbane Academy and Brisbane Tutoring Center, Inc., Best of Charlotte 2009 and 2010, eWomen Network International Femtor Award 2009, 107.9 Link Leading Lady 2009, and Business Leader Magazine Women Extraordinaire 2009.
Family Tree:
Married to her twin flame, Christopher, and mother to Anton, 19, William, 17, and Lia 15. The family lives in Huntersville.
Get Real:
My days can be quite full. It is vital to make time each morning to breathe, let go and receive divine guidance for my day. Playing board games, walking, talking, laughing, watching movies (Sci-Fi), traveling and sharing daily gratitudes with my family are enjoyable and invaluable to me.
"Don't You Dare"
Sometimes our teens can be a Drama Queen and Kings. I simply remind them to think a happy thought and create something greater … the sooner the better!
Parenting Rule #1:
Don't say no to your child and give in later. "No" should mean "no." Love means having to say "no" sometimes.
Fave Phrase:
"Do what you love and love what you do, and you will never work a day in your life."
Spill It:
My most embarrassing moment was rushing into a restroom at a local mall not realizing I was in the men's room until I came out and saw urinals and an older gentleman smiling at me. As I quickly walked out, several young ladies were standing at the entrance laughing their heads off. I simply responded, "Just checking out the other side … it's all good!" and headed for the exit.
Top Tip:
Life is too short. I share, show and tell them I love them as much as I can. A child never cares how much you know until they know how much you care, and most importantly, it takes a village to raise a child so ask for help when you need it.