Reality Check: Elizabeth Coppedge-Henley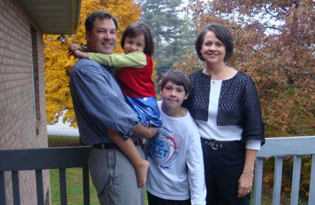 Take a peek inside the life of local mom Rev. Elizabeth Coppedge-Henley and get a glimpse of everyday parenting – from the madness to the mess-ups!
Vital Stats: Elizabeth Coppedge-Henley, 41
Senior Pastor at First United Methodist Church in uptown Charlotte. She serves on the Board of Trustees for the Urban Ministry Center and volunteers at her kids' school, as well as various United Methodist committees and ministries.
Family Tree:
Married to the Rev. Jonathan Coppedge-Henley and mom to Owen, 11, and Lora, 5. The family lives in the Olde Providence area with their Brittney Spaniel "Fraser" (named after the Fraser Fir Christmas tree field he was born in) and Hermit crab "Dr. Zoyburg."
Get Real:
Our home is comfortable chaos most days; simply chaotic on other days.
"Don't You Dare":
My 11-year-old son has figured out certain Christmas personnel secrets. He loves to push my buttons by dropping suspicion-building hints to his sister. Sharp looks and telling him, "If you don't believe, Santa will never come to this house again!" get the message across.
Parenting Rule #1:
Never belittling themselves, each other or other people.
Spill It:
I've preached more than one sermon with baby spit-up running down the back of my clerical robe.
Top Tip:
Take deep breaths (during the holiday season), say your prayers and don't over-commit to too many activities. Whether lighting candles or saying prayers, rituals can be an important part of holiday faith formation. As Christians, our family marks the 24 days leading to Christmas Day with an Advent calendar – a Nativity scene that gives us time each morning to remember what Christmas is truly about.