Reality Check – Cress Barnes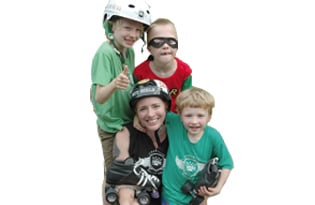 Take a peek inside the life of local mom and Charlotte Roller Girl Cress Barnes — and get a glimpse of everyday parenting — from the madness to the mess-ups!
Vital Stats: Cress Barnes, 38
Charlotte Roller Girl "Lucy Kwipment," co- owner of the Common Market and a teacher at Plaza Presbyterian Weekday School.
Family Tree:
Married to Blake for 13 years, and mom to three sons, Simon, 9, Owen, 7, and Henry, 5, as well as three miniature dachshunds, Daisy, Mimi and Lucy. The family lives in Plaza- Midwood.
Get Real:
Our home is definitely comfortable chaos. The kids like to say my super power is finding things. Well somebody has to, right?
"Don't You Dare":
Whining! AAAAAHHHHHH!!! There is NEVER a good time!
Parenting Rule #1:
Treat everyone with respect — and remember, you have to give it to earn it.
Fave Phrase:
"Use your kind words." That totally stems from preschool!
Spill It:
Owen is the boy who cries wolf; he's very reactionary and dramatic. I heard him screaming downstairs and continued to put clothes away until Simon yelled up, "Mom, Owen's bleeding everywhere!" Nice — 14 stitches in his head. I get Mom-of-the-Year for that one.
Top Tips:
Laugh — you will not have this time with this age children forever. Choose your battles, and don't sweat the small stuff. And always remember that farts are funny.