Reality Check: Bruce Snyder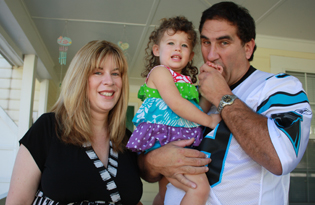 Take a peek inside the life of dad Bruce Snyder and get a glimpse of everyday parenting — from the madness to the mess-ups!
Vital Stats: Bruce Snyder, 48
Sports Director at WCCB-TV, FOX Charlotte, which as won numerous awards, including Best N.C. Sportscast and Best N.C. Sports Story.
Family Tree:
Married nine years to wife, Charisse, (we've actually been an item for 17 years), who used to be a TV producer but now is a professor at Pfeiffer University, and Dad to Sage, almost 3, with a son on the way at the end of the month! The family's special Beagle-Basset son (named Sport, of course) died when Sage was very little, and eventually they'll get another dog, "probably when Sage is old enough to help take care of the pooch," says Bruce.
Get Real:
Our home is KID-friendly during the day and then gets cleaned up somewhat at night … only to revert back to its previous stage the next day.
"Don't You Dare":
Sage got in a routine where she would throw things on the floor and then watch my reaction. If I got mad, she smiled; if I yelled she laughed. We finally decided to use a chair for time-outs, called the "frowny chair." It's worked, somewhat.
Parenting Rule #1:
Throwing food on the floor and ripping books. Books are almost sacred to me. No ripping of books and no throwing food on the floor (unless it's something Daddy made, then I completely understand.)
Spill It:
One day, before Charisse and Sage, then 3 months old, left on an errand, I changed Sage's dirty diaper. … Unfortunately, I forgot to put a new diaper on. I did put on her pants, so Charisse never noticed the missing diaper … until she was breastfeeding and felt a puddle in her lap. Oops! I ended up getting Charisse and Sage flowers with a note saying, "Sorry if I p—ed you off."
Top Tip:
First, read whenever you can — kids are like a sponge, soaking up everything, and books give them a world of information. Second, I've learned positive reinforcement is very important. If Sage makes a mistake, we talk about it calmly with a smile on our faces. Sage learns what she needs to learn, but without feeling bad about things. And if that doesn't work, well, there's always "frowny chair."