Ready, Set, Move: Meet the 2015 Fit Family Challenge Spotlight Families
Following two Charlotte families as they journey to better health.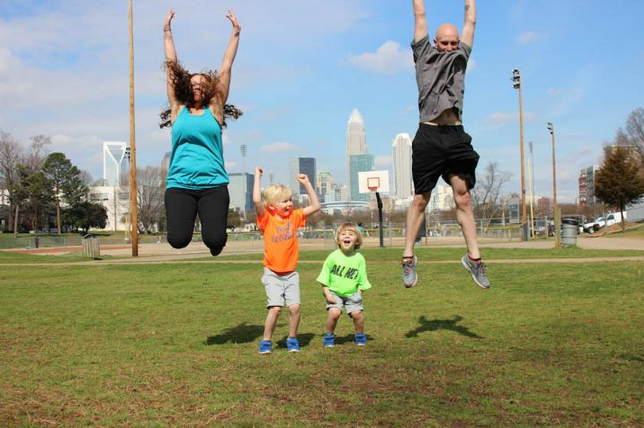 The 2015 Charlotte Parent Fit Family Challenge kicks off April 21. The eight-week program is designed to help families exercise more, create better eating habits and move toward an overall healthy lifestyle. Two Charlotte families — the Bacons and McMasters — are sharing their experiences along the way. Both families are committed to eating healthy, exercising to achieve their goals and working with fitness and nutrition experts to overcome obstacles. Follow their progress in the May and June issues of Charlotte Parent and online in the Fit Family Challenge blog. Then sign your family up to join in the fun!
---
Meet the Bacons
Although the Bacon family is new to Charlotte, having moved here from Connecticut last summer, they are ready to jump in with both feet, enjoying all the city has to offer. Tracey Bacon, 40, works from their home as a senior project manager with Aetna Insurance. Rob Bacon, 44, a veteran of the Air Force, is a security manager for Piedmont Town Center. Their children, Dannika, 9, and, Nikolas, 8, attend a local charter school and play lacrosse. Tracey surprised her family by signing them up for the Fit Family Challenge. "I saw the Challenge on the website and thought, what a great opportunity for us to get healthier as a family," she says.
The Bacon's are a tight-knit foursome. "One night we do arts and crafts, one night a movie night and another night board games," says Dannika. Nikolas adds, "We play football in the backyard."
With all this activity, Tracey says it's a challenge to stay on track with a healthy meal plan. "We are too tired to make a healthy meal, and we rely on quick hits like pizza." Rob agrees with his wife. "We get derailed even though we know these things are happening." Tracey admits that a lack of planning creates a slippery slope, making it hard to get going again.
Tracey and Rob understand the changes they need to make, and wants to incorporate more fruits and vegetables into their diets and cut out snacks.
The Bacon's look forward to spending their first spring in Charlotte taking advantage of the parks, riding bikes and planning meals ahead of time. Rob, an avid cyclist, who participated in group and charity rides in the past, hopes to find a group here. Overall, they hope the challenge provides them with the tools to get healthy in their new home.
Follow along with the Bacons in the Fit Family Challenge blog.
---
Meet the McMasters
​Tim and Jessica McMasters had a whirlwind romance when they eloped after two months after meeting each other, but eight years later with two boys, three dogs and growing careers, they are focused about their decisions and lifestyle. Tim, 27, and Jessica, 28, participated in the Fit Family Challenge in 2013 and 2014 with their sons, Micah, who is now 6, and Sullivan, 3, because it is a reminder to eat healthy and get active as the weather warms.
The family lives in a south Charlotte suburb. Tim works at Champion Fire Alarms and Jessica juggles part-time positions with several educational programs. Their lives are busy. "We enjoy gardening and playing outside, volunteering at three animal rescue shelters, fostering animals or running our pet boarding company, Paws Retreat – Pup and Feline Friends," Jessica says.
All this activity, however, poses challenges to the McMasters when it comes to keeping a healthy meal schedule. Tim and Jessica often skip meals because they are too busy to eat. "It is suddenly 6 p.m. and we realize we missed lunch," Jessica says. "The kids eat, but we don't."
For Tim, a former chef, teaching his children to eat well is especially important because he struggled with eating too many sweets as a child. "We are food people, we love sweet tea, southern comfort food, eating out and cooking with heavy cream and butter," Jessica says. They want to eat better, drink more water and focus on becoming stronger.
Finding time to exercise consistently is an issue for Tim and Jessica. They prefer to exercise as a couple or ideally as a family, but with energy low in the evenings, early mornings are the best for the busy parents to each get in a good workout. Jessica hopes to run a 5K this year and Tim wants to compete in Charleston's Cooper River Bridge 10K Run next year. Micah made it clear that he and his brother are ready to join in the family fun, "We like running and riding bikes," he says.
Follow along with the McMasters' journey in the Fit Family Challenge blog.
Vanessa Infanzon is a freelance writer and when she is not chasing three boys or training for her second half marathon, she writes at especiallyben.com.
---
Get in on the Action
Sign up for the Fit Family Challenge to track your family's healthy habits and win prizes!
Stay up-to-date on the latest Fit Family Challenge classes and events at Facebook.com/fitfamilychallengeCLT.
---