Ready, Set, Move: 2015 Fit Family Challenge Spotlight Families | Part II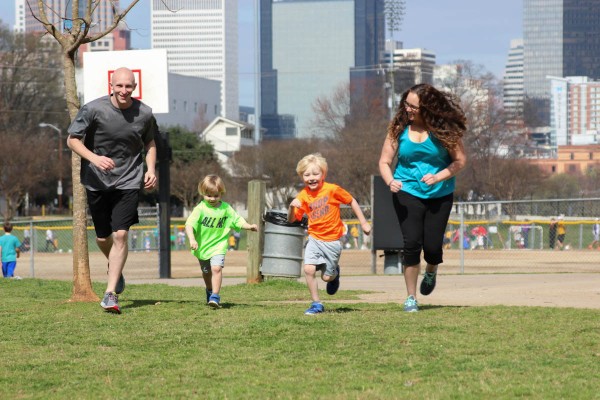 In the April issue, Charlotte Parent introduced the McMasters and Bacon families who are sharing their everyday challenges and successes to healthier lifestyles through the 2015 Fit Family Challenge. Both families have jumped into their new routines with help from nutrition, exercise and wellness experts. See how they are doing, and we hope you may takeaway strategy to help your family.
The McMasters: Motivated for More


Motivated by the Fit Family Challenge, Tim and Jessica McMasters have been successful for more than four weeks giving up sweet tea and other sugary drinks. "The most noticeable change is the lack of mood swings that the caffeine caused," says Tim McMasters. "Plus my energy levels have stayed consistent throughout the day."
Jessica McMasters acknowledges the family's biggest challenge is finding time to eat healthy and exercise. "We have a desire to eat healthy and exercise, but no time with our busy lifestyle." Wellness expert Maureen Carlomagno with Your Wellness Coach recommended the McMasters write down everything they do every minute of the day for an entire week and then review where to eliminate unnecessary items and squeeze in the important ones to help them become more efficient with their time. "With better time management, I hope I will feel less tired and overwhelmed; ready to wake up and workout," says Jessica McMasters. Tim McMasters is waking up early to go for his runs and using a few in-home pull-up bar and punching bag to get in his fitness.
Registered dietitian and nutrition expert Tricia Azra is helping the McMasters set a goal to cook a healthy meal together once a week. At Azra's suggestion, the children, Micah, 6, and Sullivan, 3, are choosing vegetables and fruit at the farmer's market for a healthy side for the evening meal. The family is also eating healthier and snacking in between meals as recommended. "We also purchased a Ninja blender to start making smoothies in the morning," says Jessica McMasters. "We are staying focused on making permanent lifestyle changes and excited for the journey ahead."
The Bacons: Finding the Fun


The Bacon family's first order of business in the Fit Family Challenge was to clean out the pantry and fill it with healthy food choices, which means no soda in the house! For Tracey and Rob Bacon and their children, Dannika, 9, and, Nikolas, 8, practicing mindful eating has been the biggest change. "The surprise for me has been how easy the kids have acclimated," says Tracey Bacon. Azra recommends making simple smoothies, eating dinners at the kitchen table as a family one to two times per week with a focus on simple and light recipes "I have started to leave out a veggie/snack tray for the kids when they come home from school and that has gone over really well," says Tracey Bacon. "Just the other day, when I picked the kids up from school, we had to run from one practice to another, so I went ahead and created snack bags for each kid to have in the car. They loved it and it kept me from running through drive-thru. A true win-win!"
Tracey Bacon admits she has a love-hate relationship with exercise, but is determined to find the fun in fitness again. "When my kids ask to go on a bike ride or take the dogs for a walk or swim with them, I have made a conscious effort to say yes, absolutely," she says. Rob Bacon, who loves cycling, signed up for two upcoming bike races (each more than 60 miles).
As for how to manage the stress of a busy life, Carlomagno offered this tip: "Write down a positive affirmation for yourself. An affirmation is a short, clear, positive statement that focuses on your coping abilities under stressful situations." When it comes to the family's strategy for overcoming their obstacles, Tracy Bacon says, "I think the biggest challenge is changing our mindset. We need to think of it as a lifestyle adjustment, one that we will continue after the challenge is over."
Read weekly updates from the Bacons and McMasters in the Fit Family Challenge blog.
Vanessa Infanzon is a freelance writer and when she is not chasing three boys or training for her second half marathon, she writes at especiallyben.com.
Get in on the Action
Sign up for the Fit Family Challenge to track your family's healthy habits and win prizes!