Reading, Writing… and Coding? Creating the Next Generation of Programmers
What's the big deal about coding? Find out why it's a skill your child needs to know.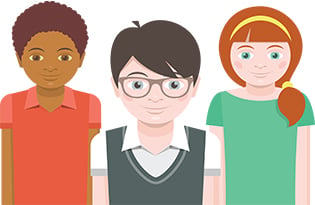 Coding, the practice of writing languages that computers understand, is an increasingly important skill that is being taught in schools around the nation. Job reports show that the information technology field is a consistently strong market. Technology-related jobs are expected to be one of the fastest- growing fields through 2022, according the 2014 Best Jobs report in "U.S. News & World Report."
Thanks in large part to code.org, a nonprofit group whose goal is to expose every student in the U.S. to coding, millions of students nationwide have tried it. Hadi Partovi, founder of code.org, refers to coding as a "critically foundational field." The organization is working with school districts nationwide to introduce students and teachers to the skill, and it plans to reach at least two million students through its programs.
Fluency in coding can lead to lucrative jobs in the informational technology field, whether it's programming computers or designing video games. It also can help kids develop valuable problem-solving and critical-thinking skills through its emphasis on breaking large problems down into a sequence of smaller problems, starting as young as 4 or 5 years old.
"The way we think about the world is evolving," says Jo Anne Honeycutt, career and technical education director for the N.C. Department of Public Instruction. "I think so much of what will happen in technical careers will require some understanding of programming."
Coding in the Classroom
In recent years, computer programming has become more integrated into school programs. Toys and programs that teach the basics of coding are even available for children in kindergarten. Teachers also are learning that they don't have to be experts to teach coding. With some basic instruction, most students can use their own creativity to apply coding to many types of projects.
Writing computer programs teaches students to solve problems themselves — when their program doesn't work, they must examine their code to figure out what they did wrong. Successfully creating a computer program gives students a sense of mastery over the skill, motivating them to keep learning.
Margaret Rudisill, a middle school science teacher at Trinity Episcopal School in Charlotte teaches basic coding in her science classes. Her students have created computer programs that show how hurricanes move and to illustrate parts of cells. Last year, Rudisill began a technology club that drew 23 of the school's 50 sixth-graders. Rudisill thinks it benefits her students because they learn how to create projects together using coding, and they build off each other's creativity and ideas to write more complex programs.
Many Trinity Episcopal School students have participated in code.org's Hour of Code tutorials for all ages that teach students skills such as how to build an iPhone game, write a program to guide a robot, and make drawings using basic JavaScript.
Charlotte Mecklenburg Schools offers camps, robotics clubs and other extra-curricular activities centered on coding. During the 2013-2014 school year, 40 Charlotte Mecklenburg Schools participated in the Hour of Code. Charlotte Mecklenburg Schools also is working with IT-oLogy, a local nonprofit that helps students think about preparing for careers in IT and provides Saturday coding sessions for older students.
Pamela Lilley, the media specialist at Cornelius Elementary, is integrating coding into computer lab "specials" at her school. She originally knew little about coding herself, but understood the importance of it after watching an online video produced by coding.org, and after attending a summer conference held by the International Society for Technology in Education.
"I would like for it to be something that's done with all students K-5 on a regular basis," says Lilley. "When you have a computer lab, you should be learning computer skills. It forces students to use their brains in ways they never have before."
A Path to IT Jobs
The N.C. Department of Public Instruction has undertaken several initiatives to up the interest in coding, including increasing awareness of what coding is in middle schools and streamlining licensure requirements for teachers who want to teach computer programming.
During the 2013-14 school year, about 2,000 students statewide took a level one computer programming course that was offered online and in high schools. Enrollment in computer programming courses increased after a game development course was introduced, and teachers received more resources to teach coding. "We made it a course that kids really want to be in, where they learn a skill and think it's fun," says Honeycutt.
Instructors statewide are impressing upon students how learning to program computers could affect their future job prospects. At Apex High School's Academy of Information Technology, which is a school within a school, 90 rising ninth-graders are chosen from hundreds who apply to be in the program through a lottery system to study computer programming and applications.
Students in the Academy of Information Technology at Apex High are taught business skills along with technical skills, and are required to complete a 135-hour internship during high school. Many students work with technology companies in the Research Triangle Park, such as IBM and SAS.
"We want to make sure our students are an asset to these companies," says John Evans, director of the Academy of Information Technology at Apex High School. Many stay in touch with the companies they intern with and sometimes are hired full-time after college.
David Oates learned basic HTML/CSS in sixth and seventh grades at Trinity Episcopal School. He then began building websites for local businesses in Charlotte. Now he works as a product designer at HubSpot, a software company in Cambridge.
"Being exposed to coding at Trinity opened doors for me and ultimately led me to where I am now," says Oates.
Marty Minchin is a freelance writer based in Charlotte. She has two children in elementary school.
Coding Vocabulary
Computer programming: Developing and implementing instructions to make a computer perform a task.
Application: Software designed for users.
Programming language: A formal language that gives computers a set of instructions.
Basic: A common computer programming language.
JavaScript: A computer language used to design websites.
Coding Tutorials and Instruction for Kids
If your child's school doesn't have computer programming classes, check out these websites, products and organizations that offer coding tutorials and instruction for children preschool age and older.
Code.org: Provides Hour of Code lessons and updated tutorials on aspects of coding, code.org.
Tynker: Website with basic programming instruction and visual art tools for kids to create animation and games, tynker.com.
Daisy the Dinosaur: Website with a basic introduction to computer programming, appropriate for young children as young as 4, daisythedinosaur.com.
Hopscotch: An iPad app that allows children to create games, stories, animations and other interactive projects by dragging and dropping colorful blocks of code, gethopscotch.com.
IT-oLogy: A nonprofit group that organizes IT meet-ups and "Cyber Saturdays" in Charlotte where kids can learn to code, it-ology.org.
Bee-Bot: Robots designed for young children that teach sequencing, estimation and problem solving, bee-bot.us.