Read Across America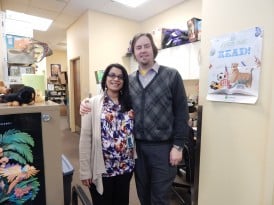 Monday March 2nd was Read Across America Day! The National Education Association (NEA) promotes Read Across America Day, an annual reading motivation and awareness program that calls for every child in every community to celebrate reading on March 2. If you are looking for a great book to read, here are some titles you can request from Charlotte Mecklenburg Library:

Have you Seen My Dragon? by Steve Light is a wonderful story about counting that allows the reader to search for hidden items on each page. Seek-and-find stories help children pay attention to detail, develop pre-reading skills, and build confidence as each item is found.
For a preschool audience try Little Elliot, Big City by Mike Curato, a sweet story about friendship. Little Elliot, an adorable pastel polka-dotted elephant, finds himself struggling to adjust to his new surroundings, but with the help of a new friend he is able to tackle the big city!
Grandfather Gandhi by Arun Gandhi is a beautifully illustrated children's biography about the life of Mahatma Gandhi suitable for school-age students. Told from the perspective of Gandhi's grandson, this story shares insights into what an extraordinary man he was and the changes he brought to this world. This book is sure to inspire young minds everywhere.
Finding good books may not be the tricky part for some parents but rather getting kids to read can be a bit of a struggle. Try finding new ways to engage your little reader! Here are some suggested activities to help make reading fun & exciting:
The NEA suggests "travelling" across a map of the US by reading a book that takes place in each of the states.
Start a family book club and involve your children in the selection process.
Read recipes and bake/cook together.
Try playing board games which is fun, requires participants to read and understand the rules, and encourages critical thinking skills.
Help your child keep track of what they read by creating a Reading Log; writing book reviews helps your child express their opinions & thoughts, as well as think about what they read.