Raising Socially Conscious Kids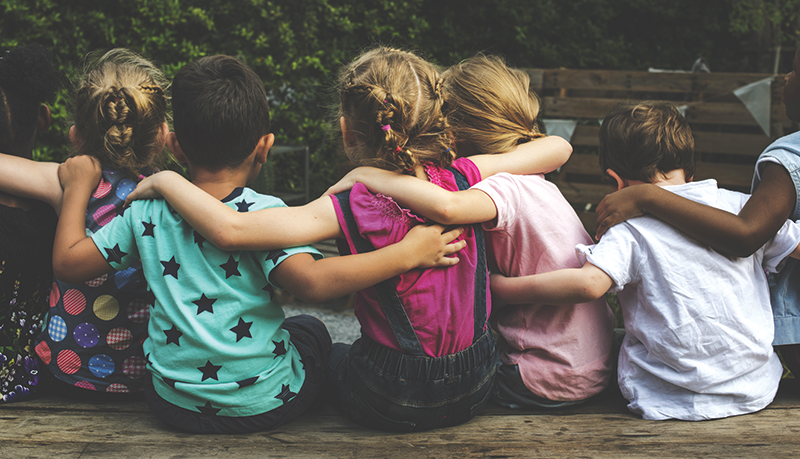 "Why don't some people have homes?" "Why do we donate money to help people?" "Why doesn't everyone have enough food?" When kids begin asking hard questions, they are ready to talk about social justice.
Social justice is a broad term for action intended to create genuine equity, fairness and respect among people, says licensed school psychologist Eleazer Cruz Eusebio, chair of the school psychology department at The Chicago School of Professional Psychology. Harvard University research shows that children can begin to harbor negative racial biases as early as 3 years old, thus caregivers should consider being intentional about teaching values like equity and inclusion early in life. Here's an age-by-age guide to communicating with kids about the issues shaping our world.
---
Early Years
Role Play
Toddlers and preschoolers are starting to learn about empathy, the experiences of others and how their actions impact those around them, making early childhood an ideal time to begin talking about social justice. Keep concepts simple. Focus on differences and similarities in people your child knows with messages of inclusion and equity. For example, you could say: "Each person's body has different abilities. Some people walk with their legs. Your friend Sam uses a wheelchair to get around. That restaurant table has a space for a wheelchair.
That way everyone can enjoy eating here."
For a classroom of preschoolers, having interactive group conversations and setting up role-playing scenarios that focus on basic differences and similarities are healthy, productive ways to address false stereotypes, and may even help prevent potential discrimination and bullying, Eusebio says.
---
Elementary Years
Fair Wars
By elementary school, children can handle the concept that the world isn't always fair, and that some people don't get what they need, so others should step in to help.
Around ages 10 and 11, kids can really begin to embrace these concepts, says Jessica Hulick, founder and executive director of Social Justice Storytime, which strives to promote an inclusive community by creating a space for children and families to learn and discuss contemporary issues through storytime. At family storytimes in Durham and surrounding communities, Hulick and other volunteers aim to create a space where families can learn about issues, such as bullying, gender identity, immigrant and refugee rights, racial equity and family structures through children's literature. Though the events were designed for kids under age 8, Hulick quickly found that fourth- and fifth-graders were highly engaged in the conversations. Caregivers can continue these conversations at home by answering questions honestly, providing factual information and encouraging reflection about what constitutes fairness.
---
Teen Years
Newsreel
The moment older kids step into social media, they are deluged with persuasive messages about race, gender, immigration and more, including blatant racial stereotypes and sexually degrading messaging, along with graphic, violent images connected to contemporary world issues. Because teens are absorbing these media messages almost constantly, it's essential that caregivers talk to them about the violence they're seeing, Eusebio says.
Encourage teens to expand their media use beyond social platforms. Podcasts and radio can provide topical, current information about social justice, activism and news without displaying graphic violence. Ask teens how they would address problems in their community, including economic inequality, racial tension or homelessness, to open the door to a dialogue around social justice.
"Open and respectful conversation is the best formula for raising peaceful, concerned and proactive children," Eusebio says.
---
Malia Jacobson is a nationally published health journalist and mom.