Raising Kids Who Love the Outdoors
Here's how to get your child off the couch and into the great outdoors, from toddlerhood into the teen years.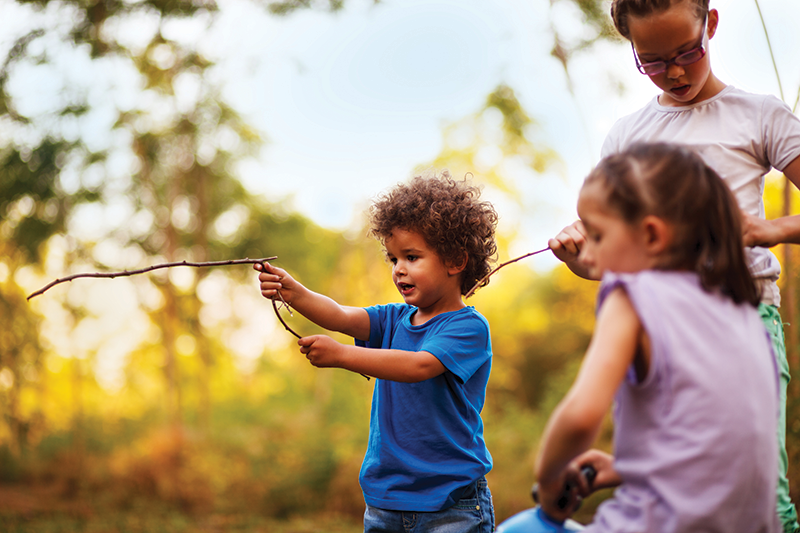 Volumes of research assert that kids have less unstructured playtime than their parents did and spend less of that playtime outdoors. In a study published in the journal Contemporary Issues in Early Childhood, more than 70 percent of mothers report that they played outdoors every day as a child, but just 30 percent say their children do the same. Researchers believe this shortage of outdoor play is hurting kids, because children who spend more time outside in nature reap academic, social, emotional and physical gains. Ready to begin encouraging an enduring love of nature? Here's how to get your child off the couch and into the great outdoors, from toddlerhood into the teen years.
---
Early Years
Explore Outdoors
Activities like squishing mud through their fingers, watching bugs march across the sidewalk and splashing in puddles deliver hands-on learning that ignites the five senses in little ones. Since very young kids can't roam outdoors unsupervised, much of their outdoor play takes place in their own backyard. Create an outdoor space that encourages creative, brain-building play for toddlers using basic, inexpensive materials, says Mary Kingsley, director and lead teacher at The Kinder Garden Preschool in Raleigh, a nature-based school where most of kids' time is spent outdoors.
"Children are natural scientists. Placing stumps and logs in the area and allowing them to naturally decompose can offer excellent learning opportunities about nature," Kingsley says. "Kids can watch for the bugs that help the process, like bess beetles, worms, ants and termites."
Turn an old sandbox into a site for sensory play by swapping out the contents. Use rice, dried beans, birdseed or dried corn along with funnels and measuring cups to let kids explore a variety of textures. Provide a bin of water and a few cups, spoons and pans for a "mud kitchen," and kids can spend hours in happy, messy outdoor play.
---
Elementary Years
Backyard Buddies
According to research by the Kaiser Family Foundation, kids over age 8 use smartphones or other screen-based devices nearly seven hours each day. Getting kids to leave the online world takes some effort. School-age children are naturally drawn to environments that are more social, Kingsley says.
Make outdoor play a shared adventure. Draw up a nature scavenger hunt for kids to complete with friends, take part in the rock-painting craze and allow kids to paint, hide and search for rocks with pals, or simply set up a sprinkler on a hot day. Consider investing in large-scale play equipment like a climbing gym, treehouse or trampoline to attract kids and their friends to the backyard for active play. Of course, kids need time to unwind on their own, too. Creating a quiet space with a hammock or a shaded area under a canopy can encourage kids to spend time in nature reading, reflecting and relaxing.
---
Teen Years
Green Goals
Teens need outdoor time as much as their younger counterparts, says Julie Kandall, educational director of the Columbus Pre-School in New York City.
"For older tweens and teens, finding time to unplug from their smartphones, iPads, computers and other forms of technology and spend time outdoors is essential for the development of brain pathways, as well as developing all the senses."
As teens seek to define their identity, volunteer work and entrepreneurship offer opportunities to build outdoor time into a busy schedule while earning cash and rounding out college applications. Teen volunteers can help maintain hiking trails, hand out water at a marathon aid station, pull weeds at a community garden or work with young kids as a camp counselor. Those with an entrepreneurial streak can bolster their bank accounts as a dog walker, house painter, powerwasher or lawn-mower. Earning certifications that translate into outdoor work — such as lifeguarding or refereeing — allows teens to develop their budding sense of self, provides opportunities to earn money and fosters a love of the outdoor world.
---
Malia Jacobson is a nationally published journalist. Her latest book is "Sleep Tight, Every Night: Helping Toddlers and Preschoolers Sleep Well Without Tears, Tricks, or Tirades."