Raising a Green Generation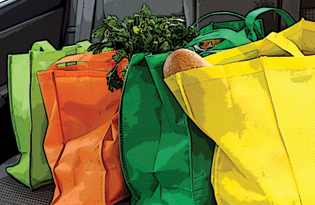 Most families are aware of their habits that affect Mother Earth. Like many busy, working moms, I have concerns about the planet my children will inherit, and I want to make some changes to help make the world a better place.
After doing a bit of research, I have a to-do list for the year that doesn't involve buying a new car or replacing household appliances. Consider making some changes yourself … especially prompting teens to learn new "green" behaviors as they grow into more eco-friendly young adults.
Pack a Waste-Free Lunch
Working parents and students often pack lunch items in single-use plastic bags, aluminum foil and wax paper, or they buy single-serving items that come in a disposable package. The environmental cost of these time-savers is staggering. It's estimated that one school-age child using a disposable lunch generates on average 67 pounds of waste per school year. According to wasterfreelunches.org, families spend $4.02 a day by packing a "disposable" lunch, while a waste-free lunch costs on average $2.65 a day to pack.
Perhaps it's worth it to consider packing lunch the old-fashioned way. Amy Hemmert, president of Obentec, Inc, a California-based company that makes lead-free, waste-free lunch kits and lunch-box systems suggests, "planning ahead and stocking the kitchen with wholesome choices, including nuts and dried fruits." Maximize leftovers by making a little bit extra the night before and pack it the next day for lunch. Pack real silverware and avoid juice boxes and disposable water bottles. Busy parents can visit www.laptoplunches.com/ideas.html for grab-and-go lunch ideas. Also, Obentec offers a free monthly e-newsletter with recipes and lunch ideas; visit www.laptoplunches.com/newsletters.html.
Tote Reusable Shopping Bags
Paper or plastic? Neither. Animals die every year from eating discarded plastic bags mistaken for food, and it takes 1,000 years for a plastic bag to degrade in a landfill. Whether shopping for groceries or shopping at the mall, bring your own bags. My kids like carrying reusable bags that reflect their personalities, and I find my purchases easier to carry and unpack in a sturdy, reusable bag.
Eliminate Disposable Water Bottles
According to the Container Recycle Institute, Americans buy an estimated 25 billion single-serving plastic bottles of water each year, and eight out of 10 end up in landfills. Consumers spend come $7 billion on bottled water in the United States each year. Avoiding single-sized boxes and bottles of juice can save on your family's weekly grocery bill and reduce everyone's caloric intake. Bring reusable water bottles to school, work, the gym and the athletic field.
Eat Less Meat and Dairy
One of the most easy and powerful choices families can make to reduce their carbon footprint often is over looked. A November 2006 report released from the United Nations revealed that raising animals for human consumption contributes to global warming (through emissions of carbon dioxide, methane and nitrous oxide) more than all forms of transportation combined.
Some 10 billion animals are killed to become food each year in the United States. Livestock production uses many of the earth resources: 2,500 gallons of water is used to produce one pound of meat and 750 gallons of water is needed to produce one gallon of cow's milk. And, the main reason for cutting down trees is to support livestock production. Researchers at the University of Chicago say that an individual eating a vegan diet is 50 percent more effective in reducing global warming than a person driving a hybrid car who eats an animal-based diet.
By eating less (or no) meat and dairy your family can help preserve the earth's resources and limit pollution and greenhouse gasses. As an added bonus, you'll enjoy some health benefits as a result, too.
If switching to a vegetarian diet doesn't appeal to you, try going meatless just for one day a week. Many celebrities are a supporting an international campaign called "No Meat Mondays" to reduce emissions. You may find it easier to change your food choices for one day a week, rather than give up using your car for one day a week.
Whether we want to or not, the time is now to re-think our habits and become more earth friendly. We owe it to our children and teens to role model respect for Mother Earth — the planet they soon will inherit.
Louise Hajjar Diamond is a guidance counselor, mother of two, and freelance writer in Ft. Lauderdale, Fla.