Raising a Confident Reader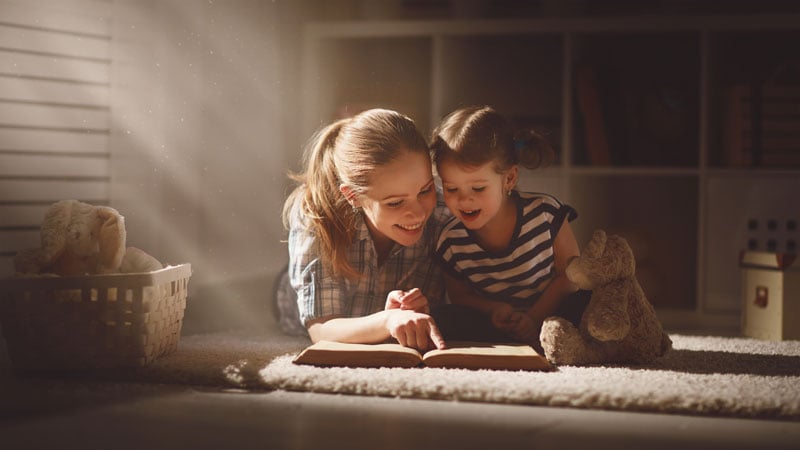 Children who read well have a leg up in school and life, but raising a confident, joyful reader isn't as easy as slogging through a bedtime story each night before tuck-in. Research from the University of Michigan highlights five fundamental components of early literacy as phonemic awareness (or the ability to hear and identify different sounds, or phonemes, within words), phonics, vocabulary, reading comprehension and fluency. When any one of these areas isn't up to par, children struggle with literacy. The National Center for Education Statistics reports that 65 percent of fourth-graders read at or below the basic level. These children are likely to fall behind as academic difficulty ramps up. Read on for simple steps to take at every age to foster a love of reading.
EARLY YEARS
Active Reading
Many parents know the importance of daily reading, and hearing a story or two at bedtime is a common ritual in American homes. Parents often don't realize, however, that how they read to young children is just as important as establishing a nightly reading habit in the first place.
When reading to small children, who are just beginning to grasp the concepts on the page, it's vital for parents to add valuable context for children, says Carolyn Dickens, president of Motheread Inc., a literacy education organization based in Raleigh. She recommends introducing the book's topic before even opening it up. "So with 'Goodnight Moon' you could say, 'I'm going to read you this book about a little bunny and their room. It looks a lot like yours!'" By asking open-ended questions such as "How do you think she felt then? What do think is in the box?" can help create a richer, more meaningful reading experience for babies, toddlers and preschoolers, Dickens says.
ELEMENTARY YEARS
Digital Drama
Children increasingly are reading on tablets, smartphones and other devices. Publishers Weekly reports that 21 percent of children's books sold in the United States are digital. Technology is a part of who we are, Dickens says, but paper books have real value for children, particularly for those under age 10.
"Real books are immediately accessible to young children. They don't have to look for a charger or ask a parent for a password for a device; they just need grab it off the bookshelf and open it up. They have more power and control over the experience," she says.
Paper books also offer benefits when caregivers read to more than one child. To make paper books a permanent part of your child's life, put them on birthday and Christmas wish lists, make regular trips to your local library, and be sure to let kids see you regularly dipping into a real-world, ink-and-paper book.
TEEN YEARS
Engage the Page
Teens who struggle with reading fluency may avoid reading for pleasure, says Kaitlyn Fetterman, a middle school special-education teacher and literacy expert in Montgomery County, Pennsylvania. "But in my experience, I've found it may only take one book to change a reluctant reader into a bookworm. Engagement is a huge factor for teenagers, especially if they classically dislike reading," she says.
She recommends using a child's interests to guide book selection. Athletes may enjoy reading a biography of their favorite coach or player, while those who love fantasy video games may enjoy science fiction. Parents should also consider reading level. A teen that reads at a ninth-grade level may struggle with a book written at a 12th-grade level. When a book is challenging for a teen, pairing it with an audiobook can help make the text more accessible, Fetterman says. With so many books written for today's young adult audience, teens have more to read than ever — and more ways to begin a lifelong love affair with the written word.
Malia Jacobson is an award-winning health and parenting journalist and mom of three. Her latest book is "Sleep Tight, Every Night: Helping Toddlers and Preschoolers Sleep Well Without Tears, Tricks, or Tirades."