Radio Turned My Four Year-Old Into Snoop Dogg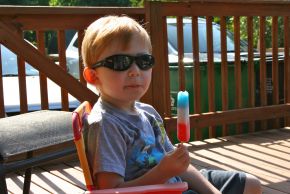 Before I had kids I thought Radio Disney was nothing more than a platform to launch the careers of teen singers like Miley Cyrus, Demi Lovato and the new wave of kids named Connor, Madison, Addison, Cayden and Jaden. I continued to think that way until my first son Tyler turned 3. That's the magical age where your son or daughter starts repeating EVERYTHING.
There is nothing more repetitive than today's pop music. Tyler, being a master repeater, regularly got hooked on the 30 seconds of original music repeated over and over again to make a three and a half minute song. While other kids noted their favorite song was "Jesus Loves Me" or "The Wheels on the Bus," my son Tyler proudly answered "Moves Like Jagger." Having worked in Top 40 radio for many years before moving to TV I was just happy it wasn't some dirty rap song from Waka Flocka Flame.
Last year "I'm Sexy and I Know It" briefly became Tyler's anthem. Top 40 radio and an M&M's commercial share the blame on that one (along with my wife and me obviously). After he started singing it one day in the back of the SUV, we labeled it a "yucky song," meaning we went to another station anytime we heard it, which was often. More and more songs would get added to the "yucky song" list, including Katy Perry's "Extraterrestrial" where there's a Kanye line about alien sex and Rihanna's "S & M."
Then came the modern day "Macarena" known as "Gangnam Style." Luckily Tyler, now 4, completely missed the "Hey Sexy Lady!" line. He focused on the "Op op op op oppan Gangnam Style" hook. So I thought I was in the clear from a content perspective. That said, we began singing the song whenever it came on while riding in the car. Whether we were headed home from school or on the way to the doctor's office or Chuck E. Cheese, we'd substitute the "Gangnam" in "Gangnam Style" with names of family members. We'd loudly and somewhat flatly sing "Op op op op oppan Tyler Style" followed by "Op op op op oppan Chasey Style" for baby brother Chase who was kickin' to the beat in his car seat. Then we sang the line with mommy and then daddy taking the "Gangnam" slot. Having run out of names, the next time the chorus came around Tyler, at the top of his lungs yelled ""Op op op op oppan DOGGIE Style!" Our dog Dawson, clearly a member of the family had to be part of the fun, but apparently not by name. In that moment I laughed. A lot. I know I probably shouldn't have. Typically I try to cover or smother my laughter when my boys say or do something inappropriate because I don't want to show approval leading them to sing about "Doggie Style" at church but Tyler got me.
A Radio Disney edit wouldn't have saved the situation that day but it made me realize we needed less traditional radio and more kid friendly choices. We downloaded some of the songs heard on Nick Jr. and Disney movies because the kids don't like many of my favorites (The Police, Duran Duran, Radiohead). Some of it is pretty cool. I highly recommend Weezer's remake of "You Might Think" from Cars 2 and "Three Little Birds" from Bob Marley. I know Kidz Bop is another popular alternative but I can't handle those CDs without anti-depressants.
WCCB News Rising Host Derek James balances a full-time job in the glamorous world of television news (including a 2:30am wake up and stale coffee) along with managing chaos every afternoon for 4 year-old Tyler and almost 2 year-old Chase.
See more from Derek @DerekJamesTV on Facebook and Twitter.