Quinoa-Vegetable Gratin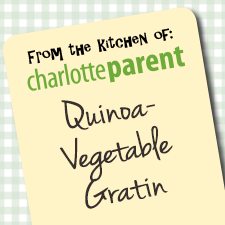 Great alongside a lean protein, or on it's own with a salad.
Makes 4-6 servings
Ingredients: 
2 tablespoons extra virgin olive oil
1 medium onion
1 fine diced red pepper
1 small zucchini diced small
2 garlic cloves
3/4 cup quinoa (cooked)
2 teaspoons fresh thyme leaves
salt and ground black pepper
2 extra-large eggs
½ cup grated Gruyere
2 medium tomatoes, sliced
3 tablespoons grated Parmesan
2-quart gratin dish, greased with oil/butter
Directions: Heat a large saucepan over medium high heat and add the oil. Add the onion, red pepper and zucchini and cook, stirring often until tender, about 5 minutes. Add the garlic and thyme and stir until fragrant, about another minute. Stir in the cooked quinoa and season with salt and pepper. Remove from the heat. 
Beat the eggs and milk together in a large bowl and add ½ teaspoon of salt. Stir in the quinoa mixture and the gruyere. Season with black pepper and stir again. Scrape into the gratin dish. Layer to tomatoes over the top and sprinkle with the Parmesan.
Now you've personal chef-ed yourself. Wrap the dish and store in the refrigerator for up to 24 hours.
Preheat the oven to 375 degrees F. Place dish in oven and bake until nicely brown on top, about 30 minutes. Allow to sit for about 5 minutes and serve. 
(adapted from Martha Rose Schulman's The Very Best Recipes for Health)