Quietly Different: Life After a Diagnosis
The search for answers and explanations, and how life does (and does not) change after you find them.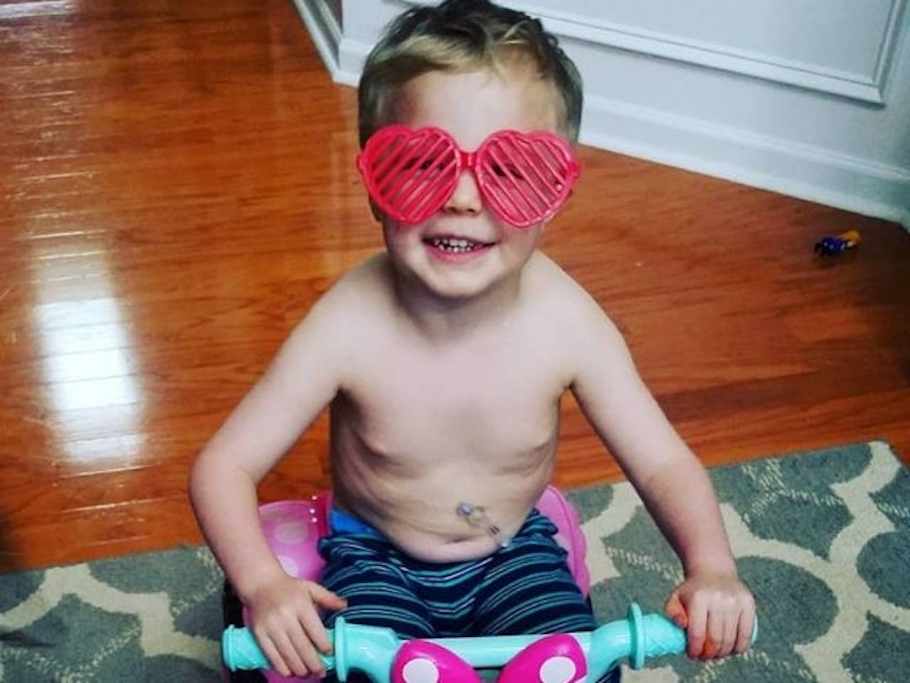 Diagnosis. It's a word that parents who have children with special needs both love and hate. A diagnosis gives you answers and explanations, but can also leave you with even more questions and worry. With our middle son Eli, now 4, we went through 14 months of questions before we received a diagnosis. An answer to why he wouldn't eat by mouth, an explanation for the need of a G-tube, and a reason for the multiple therapies he already required. It introduced a whole new host of worries, and even more questions to Google. What hardships will he face in life? What will his future look like? Most are questions that parents with "typical" children also ask, but with medical and cognitive limitations, the worry increases.
Our Diagnosis
We got a diagnosis, and a rare one at that: Smith Lemli Opitz Syndrome. Something we had never heard of. S.L.O.S. affects the body's ability to produce cholesterol and causes cognitive, physical and developmental delays. A syndrome that only a few other people in the state of North Carolina have.
Eli's therapies and doctors appointments continued. We set out to find a new normal for our family, and attempted to maintain some form of normalcy for our older son Noah. He has been along for the ride before and after diagnosis. At every specialist and there for every test. he has been nothing but caring, kind and protective. We prepared for the birth of our daughter, whom I was pregnant with at the time of diagnosis. We knew she had a one in four chance of having the syndrome and chose to wait until birth to test her. She tested positive.
---
---
Our families and friends surrounded us. It was a time of darkness, and a time where I could focus on nothing but their diagnoses. Our family held us up. Our friends were there to dust us off. There was nothing like a crisis to show us the support that exists. People we hadn't spoken with in months were popping in to see what they could do. How they could help. It was honestly humbling. My husband and I were extremely fortunate to stumble upon a family Facebook page for S.L.O.S. Families from all around the world are able to seek out advice and help, share triumphs and devastations, and have a safe and supportive home. We have been able to meet other parents nearby with children of the same diagnosis. Social media has literally connected us to our Smith Lemli Opitz Family.
---
Now here we are, three years into our diagnoses. A lot about our lives are similar to other parents of multiple children. A lot about our lives are completely different. Eli and Amelia continue with their multiple therapies. We go to more doctors than I can keep track of and we've made new friends along the way. Sometimes I still struggle with the diagnosis and what it means for all three of my kiddos. But at the end of the day we have an answer and know what issues we need to be proactive about, what challenges more than likely await us, and how we can start planning for their futures. All because of a diagnosis.
Brittany Hayes is a wife, mother to three, and lover of musicals, books and wine. The past four years have been spent looking for answers for her children and she is excited to start the search for herself. To connect with Brittany directly, you can email her at hayes.brittany@gmail.com. For special needs support and to make more connections within the Charlotte area, consider joining this private Facebook Group Special Friends Connections – Charlotte Area.