Q&A with Geocache Expert Graeme McGufficke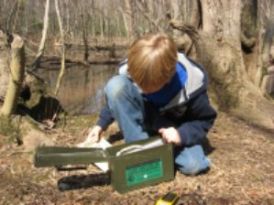 Geocache Expert on Family Treasure Hunts
Graeme McGufficke (better known by his geocaching handle "OzGuff") is second in the world for placing caches and has lent his expertise to the design of The Ultimate AsheCache. Graeme–who has hidden 953 caches and found more than 3,400–discovered geocaching with his kids in 2003.
Expert geocacher OzGuff answers some questions about his favorite pastime:
Q: Why do you love geocaching? "It takes me to places that are generally off the beaten path. When I'm traveling on business or pleasure I get to see spots that other cachers think are cool, interesting, or fun."
Q: How did you get started? "I overheard students in my daughter's fourth grade class talking about an activity they did at a birthday party and it sounded fun. Internet research led me to Geocaching.com and purchased a GPS soon thereafter."
Q: What is the origin of your geocaching handle "OzGuff?" "I was born in Australia and now have dual U.S./Aussie citizenship. Australia is sometimes referred to as 'The Land of Oz.' The 'Guff' comes from my last name and was my nickname in Australia."
Q: What's your day job? "Financial Advisor with Edward Jones Investments."
Q: How much time do you spend per week geocaching? "This is classified information, but 'too much' is accurate."
Q: What GPS do you use? "I use a Garmin GPSMAP 60CSx."
Q: What is your favorite Asheville area cache? "God Kissed the Earth and Called it Asheville (GC2A30)–it was my 46th find."
Q: What's so great about geocaching in Western North Carolina? "Western North Carolina has an incredibly diverse geography and is very cache dense. If you want the long hikes in the forest or mountains, there are caches out there for you. If you are more into prowling an urban environment looking for small or deviously hidden caches, we have those too."
Q: What would your best day of geocaching consist of? "Going on a long hike with the family to a spot we hadn't been to before and finding a few caches along the way. Hopefully there would be some cool waterfalls on the route and maybe a grand vista at the final destination. The caches themselves would really be secondary, as being out with the family would be tops!"
Q: What is the weirdest cache you've ever found? "I was caching with the kids and found the cache guarded by a large snapping turtle. I got the turtle to snap onto a large branch and I dragged the turtle a few feet away so that I could retrieve the cache. The kids loved it!" Find more information at AshevilleTreasureHunt.com.
For mor info go to www.ExploreAsheville.com and find out about geocaching!