Preventing Sports Injuries in Children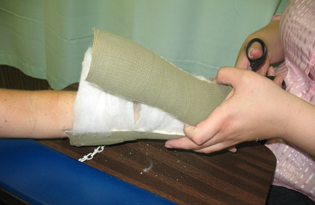 Sports injuries are sidelining more young athletes than ever, a trend that concerns doctors, coaches and parents. Doctors are seeing serious injuries in children as young as 5, and kids under 14 account for 40 percent of sports-related injuries treated in hospitals.
Doctors point to several reasons for recent increases in injury rates: greater recognition of some types of injuries (like concussions), year-round training for athletes and more intense training at younger ages. 
"Young kids — 11, 12 years old — are swimming thousands of yards a day," says Dr. Lyle J. Micheli, director of sports medicine at Boston Children's Hospital and professor of orthopedics at Harvard Medical School. "A decade ago, we wouldn't see that type of training intensity until college."
Fear of injury shouldn't stop kids from participating in sports. Organized sports boost fitness and teach important skills like cooperation, perseverance and team building. Help ensure that your budding athlete stays on the field and out of the emergency room with the right safety measures.
• Focus on fun. Athletes who play to please parents, friends or coaches, instead of for pure enjoyment, may be less likely to take a break if they're in pain or fatigued. Watch for signs of burnout, including irritability, trouble sleeping, changes in appetite and difficulties at school. These symptoms can indicate that a child is working too hard and needs a change of pace.
• Take a break. Young athletes who train year-round are more prone to injury, says Dr. Marci Goolsby, assistant sports medicine physician at New York's Hospital for Special Surgery. Adequate downtime between seasons allows tissues to rest and repair. She recommends a minimum of two weeks off; a full month is ideal.
• Watch for sign language. Early detection and treatment are important to recovery. Any pain that doesn't disappear within a day or two should be evaluated by a doctor.
Signs of concussion are especially important to recognize, because they can be subtle and are sometimes masked by other symptoms. Brain injury can cause confusion, headaches, ringing in the ears, confusion, nausea and lack of responsiveness. Concussions sometimes go unrecognized for weeks, says Micheli. If you suspect one, see a doctor immediately. 
• Initiate a strong defense. Strength training and conditioning can help a child ward off injury. Micheli and Goolsby both recommend age-appropriate weight lifting under proper supervision. Stronger muscles provide greater stability and balance for jumping, landing, turning, throwing and other strenuous moves.
• Watch for growth. Kids are especially vulnerable to injury during growth spurts. If your child is growing (sudden increases in appetite and sleep needs are signs of a growth spurt), take extra safety precautions.
• Protect practice time. Safety procedures for games and meets should be upheld at practice, too. More than 60 percent of sports-related injuries happen during practice. Make practice safer by insisting on protective gear, rest, hydration and other safety measures.
• Look for superior supervision. Sports medicine experts agree that parents should be aware of the level and quality of adult supervision for their children's sports teams. School-sanctioned sports programs benefit from access to athletic trainers and conditioning facilities. Read more about how Carolinas Healthcare System and Charlotte Mecklenburg Schools are working together to make this happen.
Childhood sports set the stage for a lifetime of healthy, active living. With the right safety precautions, sports-loving kids can stay safe and keep running, pitching, throwing, jumping and cheering for years to come.
Hit the Streets in Your Cleats
It never fails: The one time you need to stop by the mall after your son's soccer game, he forgot to bring a non-cleated pair of shoes. Prevent slips by sliding a pair of Cleatskins over his spikes. Made with trademarked SKINTEK rubber skin, Cleatskins easily slip on and off so busy athletes can move from the field to the street without changing shoes. $17.95, cleatskins.com.
Ponytail Streamers
If you have a sporty girl with long hair, ponytail streamers will keep her hair out of the way, fashionably. Shop for customized ponytail streamers on etsy.com, or host a team party and provide the girls with supplies to make their own — complete with team colors and numbers.

Malia Jacobson is a freelance journalist and mom who writes frequently about children's health issues.
> Read more: Sports Safety for Girls