Prepping a Grandparents' House for Baby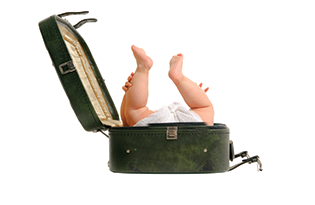 The essentials of caring for a small child are basic: provide a place for sleep, keep them safe, feed them and keep them clean. Packing for these needs is not so simple. If you will be taking your new bundle over the river and through the woods during the holiday season, prepping the grandparents' nest in advance can ease a bit of your physical packing weight and the stress of realizing you forgot something important.
The item likely to take up the most space is a pack-and-play. If it is realistic for your hosts to have a crib or pack-and-play available, it will be a relief for you. Dr. Janelle White, a pediatrician at University Pediatrics in Charlotte, recommends that parents and grandparents be aware of current crib safety standards from the Consumer Product Safety Commission when considering sleeping accommodations. The site also lists safety considerations for borrowing pack-and-plays.
Lori Leeke, a Charlotte mom to a 2-year-old and an infant, praised her boys' grandparents for making an effort to eliminate the need for her to pack a lot. "If you have more than one spare room, make one of them for the children," says Leeke.
A night-light in the room is a helpful aid that grandparents can provide, but be sure to bring along that familiar blanket, stuffed animal or favorite sleeping companion to help a child adjust. Sarah Viar, a Fuquay-Varina mom to two boys ages 1 and 2, says she never leaves home for trips without her boys' "loveys" packed.
Safety is at the forefront of parents' minds and extends beyond sleeping arrangements. If your little one is moving up or around, translate what that means for hosts. "Get things off the floor and put breakables away," says Lisa Nevalainen, Charlotte mom to a 1-year-old. "Cover outlets, find gates for stairs."
Gloria Phillips, a Virginia grandmother to six children under 3, relates. "We didn't do too much for newborns, but had to baby proof as they became mobile."
Feeding paraphernalia changes based on your child's age, as well. Leeke, a mom who breast-feeds, appreciates a chair in a private room to feed her baby. Other mothers may prefer to bring a cover. When bottles are used for formula or breast milk, a bottle brush and drying rack at your destination will be indispensable.
If you've moved your baby into solid foods, ask the grandparents to stock a few bowls, spoons and cups. "It is a huge thing for me knowing I don't have to pack bottles or sippy cups," says Viar. She also suggests using a travel chair that can be folded and stored rather than a bulky high chair.
For those post-feeding messes by blow-out diaper or strained carrots, a wash cloth, towel and baby wash will come in handy. Consider passing along the name of a baby-friendly laundry detergent, as well.
Not everything is necessary for each situation. Consider what items will be the most helpful based on the length of your trip and whether you'll be arriving by car or plane. Remind your destination hosts that consignment shops have other items at a fraction of the cost, and that diapers and wipes are easy to buy and greatly appreciated.
There's no way to completely avoid packing more when you're traveling with a small child, but having a few key items at your destination will help everyone to enjoy their time together.
– Rebecca Vincent is a mom to one, a freelance writer, and a road warrior.