Preparation is Key to Landing a Summer Job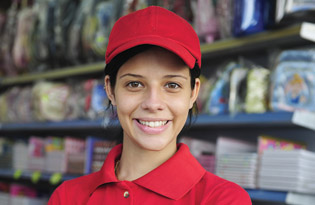 Teens are making plans for the next seven weeks of summer, and parents are all over them to find a job. With the unemployment rate hovering around 8.9 percent — and 23.9 percent for teenagers — many teens may have to work extra hard to grab a part-time summer job this year. It's important to know they have to prepare for a job search, instead of blindly jumping in.
Here are some valuable tips for teens to help them increase their chances of landing a position.
1. Sell experience through a professional resume. A professional resume, free of mistakes, is an important job-search marketing tool for students. It should highlight work experience, or in the instance of a  first job, it should include public service and extracurricular activities, along with computer skills and relevant course work.
2. Clean up personal brand and public reputation. Teens should use an e-mail address that reflects them well, not one that may be silly, distracting or offensive to prospective employers. They must spend some time reviewing and cleaning up online profiles; many teens have been tripped up by public social networking profiles, which contain questionable images or content/postings in poor taste. And, it's important to pay attention to content posted on their profile from friends; delete all inappropriate or offensive material to maintain a responsible job ready image.
3. Put social media to work. Most teens already are familiar with an array of social media opportunities. Teens should join LinkedIn, a professional social network, and join groups in their desired industry. Not only can teens post their resume, but these groups often will post jobs. Teens also can find similar groups on Facebook.
4. Use message boards. Teens should post their resume and search job postings on sites like Monster.com, SnagAJob.com and Idealist.org (for nonprofits). Most of these online sites allow users to search by zip code for job opportunities. Teens also shouldn't forget about more traditional means, like the classified section of their local newspaper.
5. Talk to everyone and anyone. Since job opportunities can come about at any time, teens should constantly network by e-mailing relatives, teachers, parents of friends — everyone they can think of — giving a brief description of the job they're looking for or stating they're available for any position.
6. Work the phones and pound the pavement. There's no better way for teens to find a job than to make some calls and stop by stores. Students can use the Internet check to see if any businesses in their area have openings and follow up with a visit. In industries with a high turnover rate — like restaurants — jobs can become available any day at any time.
7. Be strategic and go where the jobs are. Teens should think about which jobs are highest in demand during the summer. Working at amusement parks, baseball fields, ice cream shops, movie theaters, etc., are all great choices.
8. Be prepared for the interview. When the opportunity comes around, teens must present the best version of themselves. Know the background of the company (research it on the Internet); develop answers to common interview questions; think of a few questions to ask; practice a 30-second pitch of why they're the best candidate for the job; and dress conservatively for the interview.
9. Can't find a job? Be an entrepreneur. Students can take the initiative and start their own business. Whether it's dog-walking, babysitting, or landscaping, teens can use their skills to make money, printing fliers to advertising their services, with rates and contact information. This is an especially great idea for younger teens, who don't have working papers.
10. Consider volunteering. Internships and volunteer opportunities are abundant, especially in this economy where businesses are trying to cut back on costs. These opportunities may not pay, but they do offer hands-on experience for next year's resume and that college application.
Joseph Peri is president of Junior Achievement of New York. JA is a partnership between the business community, educators and volunteers — all working together to inspire young people to dream big and reach their potential. JA's hands-on, experiential programs teach the key concepts of work readiness, entrepreneurship and financial literacy to young people worldwide. Some 380,000 volunteers teach 400,000 classes to 9-plus million students a year.