Power Shop at Children's Consignment Sales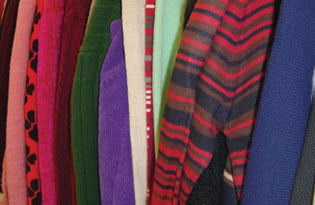 Did your baby outgrow outfits before she wore them? Are your kindergartener's shoes too small after just one month? It can be frustrating and expensive to continually replace children's clothing, especially when pieces are still in great condition. Children's consignment stores and consignment-type sales can help you purchase top-quality products for bargain prices, pocket some extra cash and contribute to the green initiative since reusing clothes and toys keeps them out of landfills.
Consignment stores are much cheaper than regular retail stores, but the seasonal consignment sales held at local churches, YMCAs and community centers are the most economical way to clothe your child. Without the overhead costs that stores have, they can keep their prices very low, and they typically pay consignors a higher percentage. At consignment sales, as well as at consignment stores, shoppers can find maternity clothing, baby gear, toys, books, movies and clothing from infant through teen sizes.
March and September are popular times for local consignment sales, so mark your calendar and get ready to fill your child's closet with some great deals.
Be a Consignment Shopper
Prepare in advance to shop a big consignment sale. Most sales don't allow strollers, and you'll be more productive if you go alone, so arrange for child care.
Take inventory of your child's closet. Does he need a white button-down shirt to wear under that sweater vest? Does she have five pairs of jeans that still fit? Are you hoping to get a gently used bike? Jot down specific items you'd like to find and take the list with you.
Take cash. Unlike permanent stores, most seasonal sales do not take credit cards or checks. The best items go early, so plan to arrive before the doors open, especially if there is something very specific you want to find. Bring bags or an empty laundry basket since carts and baskets are rarely provided.
Begin with the most unique objects on your list, such as a double jogging stroller. Next search for the items your child needs the most, such as a spring jacket. Save the browsing for last. Most consignment stores and sales won't accept stained clothing or recalled items, such as drop-side cribs, but it's still a good idea to inspect all items carefully. Temporary sales generally do not accept returns, but many consignment stores will offer a refund or exchange within a short period of time if you have your receipt.
Be a Consignor
Consigning gently used items can bring in extra cash at a time when many families are living on tight budgets. Keep a plastic bin in your child's closet for outgrown clothing. Make sure everything is freshly laundered and without stains or rips.
Most seasonal sales are held in the fall and spring, so register at one of those, or sell anytime through a store. Most sales and stores only sell clothing for the upcoming two seasons. For example, at a fall sale you can sell pants, sweaters and winter coats. At a spring sale you'll be able to sell shorts, sandals, bathing suits and spring pieces, such as a boy's Easter sweater vest.
Most stores will ask you to make an appointment to bring your articles to them. Some pay you immediately for the items; others give you a check or store credit when items sell.
Stores typically pay between 30 and 50 percent of an item's selling price. Seasonal sales often pay quite a bit more. Central United Methodist Church in Monroe gives 85 percent of a seller's profits back to the seller if she agrees to work a two-hour shift. Nonworking sellers keep 70 percent of their profits.
Here's to finding the perfect wardrobe for your little one and putting some extra spending money back in your pocket this spring.
5 Tips for Consignment Shopping
Sign up to be a consignor so you can shop before the public sale.
Know what you want or need before you go.
Bring cash and reusable bags.
Don't bring a stroller or the kids, if possible.
Look for large, unique items first, necessities next, and then the fun stuff.
Lisa Hassell is a stay-at-home mom to a 2-year-old in Indian Trail.