Potato Rolls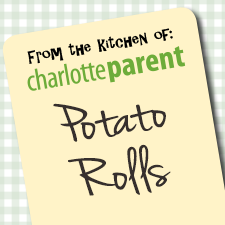 1 cup mashed potatoes
¾ cup Crisco
½ cup sugar
1 cup milk
1 teaspoon salt
2 eggs, beaten
2 tablespoons yeast dissolved in ½ cup warm water
1 cup bread flour
5 ½ cups bread flour
1. Combine the mashed potatoes, Crisco, sugar, milk, salt, eggs, yeast water and 1 cup of bread flour in a large mixing bowl. Blend well.
2. Allow to rest for 15-20 minutes, then knead in remaining flour. Allow to rise for about an hour.
3. Roll dough out to ¾-inch thick. Cut into rounds with a large biscuit cutter. Fold each round in half to make a crescent shape and brush the tops lightly with melted butter. Bake in a preheated 400-degree oven for 10-15 minutes or until nicely browned.