Pork with Pineapple and Peppers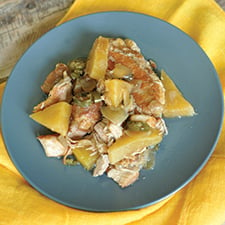 A hearty meal with a fruity flavor that the whole family will love.
Ingredients
2 tbsp coconut oil
3 lbs pork roast, cut into 1½ -inch cubes
½ white onion, diced
3 cloves garlic, crushed
2 jalapeño peppers, diced
2 cups fresh-cut pineapple
2 tbsp apple cider vinegar
½ cup dry white wine
salt and pepper just before serving
Cooking Instructions
› Melt 1 tablespoon of coconut oil in a heavy-bottomed pan over medium-high heat and brown the pork in batches, about 6 minutes a batch. Transfer to the slow cooker.
› Turn the heat down to medium and sauté the onion in the remaining coconut oil for 5 minutes.
› Add the garlic and peppers, and cook for another 3 minutes.
› Transfer the mixture to the slow cooker. Combine the pineapple, vinegar and white wine in a bowl, then transfer to the slow cooker and cook on low for 6 hours.
› Salt and pepper to taste, then serve.
Servings: 6