Pork Tenderloin or Chicken Fajitas with Grilled Veggies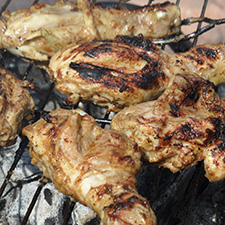 Here's a great fall family recipe — everyone can help with the prep work of slicing the veggies and then marinating the pork or chicken early in the day — the secret is in the pickle juice!
The beauty of this recipe is that it can all be prepped early in the day or even the day before for quick and easy grilling right before serving. Grilling all the individual ingredients means less fat and more flavor, making it a quick, easy, healthy and tasty weekday or weekend meal.
That evening, when everything comes off the grill, set it up buffet style and let each member of the family make his or her own.
Ingredients:
2 pork tenderloins or 6 boneless chicken breasts or thighs
1 cup sour or spicy pickle juice
3 cups water
4-5 tablespoons of your favorite Caribbean or jerk seasoning
Your choice of veggies (portobello mushrooms, grape tomatoes, Vidalia onions, bell peppers, eggplant, zucchini and yellow squash all work well).
Coarse sea salt and pepper
Flour tortillas — (For this recipe, I really like the spicy habanero lime flour tortillas at Trader Joe's)
For the garnish, sliced avocado, fresh cilantro and sour cream, if you'd like
Instructions:
1. Place chicken or pork tenderloins in a large resealable plastic bag with jerk seasoning and pickle juice. Brine at least two to four hours, turning the bag occasionally, to thoroughly coat the pork. Remove the bag from the refrigerator 30 minutes before grilling.
2. Remove the chicken or tenderloins from the brine and pat dry. This is an important step, because wet meat will not brown on the grill. Sprinkle them with the coarse sea salt and pepper. Place on a medium high grill and grill six to seven minutes per side.
3. For the veggies: Slice and season the veggies with salt and pepper and place on an un-oiled or sauced grill grid. Grill until naturally browned or caramelized. Here are some suggested grilling times: Thick-cut onions, six to eight minutes a side; grape tomatoes, four minutes a "side"; bell peppers and portobello mushrooms, four to five minutes a side; eggplant, yellow squash and zucchini, three to four minutes a side.
4. Slice pork, chicken and veggies and arrange on a serving platter. Warm the tortillas. Let everyone dig in and make their own fajita and enjoy with some sliced avocado and fresh cilantro as a garnish.
Heidi Billotto is a culinary expert who hosts cooking classes throughout Charlotte.