Playgrounds in Charlotte: Hornets Nest Park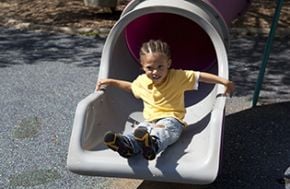 There are two playground sets at Hornets Nest Park to accommodate big kids, as well as toddler and preschoolers with slides and monkey bars. The equipment is fairly new, and the ground is covered in mulch and recycled rubber to cushion any falls. The playground is in sunny area, without much shade at all, making it good for a sunny, winter day outing.
The playgrounds are just part of the activity options. With 12 lighted tennis courts, an 18-hole disc golf course, playing fields, and a lake with fishing pier, there is always something happening at this large park located in Northwest Charlotte.
One of the most unique attractions is the BMX Bicycle Track. Go on Saturday to watch bicycle motorcross competitions on the 1,150-foot regulation track. Spectators are welcome to cheer on novice to expert racers free of charge.
The Scoop:
Bathrooms – yes
Baby Swings – no
Shade – no
Parking – Yes
Stroller Friendly – Yes
Picnic Shelter – Yes
Hornets Nest Park
6301 Beatties Ford Road